Kritagyata - Assam CM's gesture of Appreciation backed by NIC Technology
Kavita Barkakoty, Assam
asm-kavita[at]nic[dot]in
|
Oct 5, 2020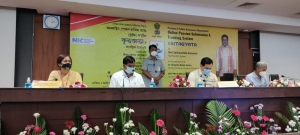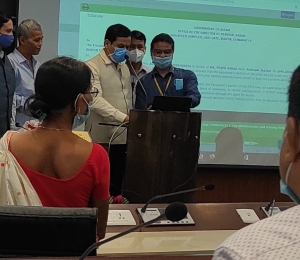 Guwahati, October 01, 2020: In a very thoughtful step to simplify and facilitate pension disbursement to retired employees, Hon'ble Assam Chief Minister of Assam Shri Sarbananda Sonowal flagged off the pilot implementation of the National Informatics Centre (NIC)-developed Online Pension Sanction and Payment Tracking System christened Kritagyata on October 01, 2020. Kritagyata is the customized version of 'Bhavishya', the product developed by NIC for the Dept of Pension & Pensioners Welfare, GoI.
In his inaugural speech the Hon'ble Chief Minister explained that the system has been named Kritagyana as a mark of the State Government's gratitude for a lifetime of service from its retired employees. He conveyed his appreciation to the Pension& Public Grievances (P&PG) Department, Assam and NIC Assam for the successful deployment, and distributed the first Pension Payment Orders (PPOs) generated thorough Kritagyata.
In his speech, the Hon'ble Minister for Pension and Public Grievances Shri Phani Bhusan Choudhury emphasized the crucial role of NIC and said that he was proud that Assam was the first state to have implemented NIC's online pension system. The Additional Chief Secretary, P&PG, Shri VS Bhaskar in his welcome address, highlighted the importance of Kritagyata and the pivotal role of NIC in making the implementation possible within a very tight deadline.
Present on the occasion were several senior officials of the Assam Government and NIC Assam. Amongst them were Deputy Director General & State Informatics Officer, NIC, Smt Suchitra Pyarelal, and Technical Director, NIC Shri Manabendra Goswami. Shri Goswami had led the dedicated NIC implementation team under the overall guidance of Smt Pyarelal. The team had customized the system according to the Assam Pension Rules with the support of NIC HQ team of Sh.Deepak Shirahatti STD & HOD PPW, Sh.Anil Bansal, TD under the overall guidance of Sh.Pawan Joshi, DDG . It is hosted in the NIC Cloud.
The retirees, department officials were provided month long training. Kritagyata is a one-stop transparent ICT platform with a user-friendly interface. It provides all required information and guidance on retirement procedures, automates calculation of benefits based on individual user specifics, enables real-time application status tracking, and initiates activity and status alerts. Kritagyata benefits will accrue in the form of timely processing of cases, simpler procedures in terms of filling up and correction of online forms, and incorporation of a grievances filing and redressing module. The ultimate advantage of Kritagyata will however be in pensioners being able to do all these without making physical visits. On the part of the office also, all verifications, approvals and sanctions will be done online resulting in overall huge savings in time.