Honorable CM Haryana, Mr. Manohar Lal virtually launched an Online Admission Platform for admission in undergraduate Courses on 07/09/2020
Deepak Sawant, Haryana
sawant[dot]deepak[at]nic[dot]in
|
Sep 15, 2020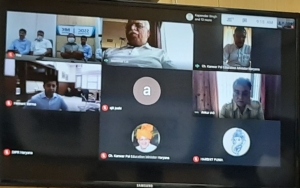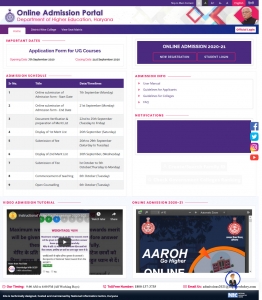 Hon'ble Chief Minister Haryana, Mr. Manohar Lal virtually launched an online admission platform for admission in Undergraduate Courses in Government, Government Aided and Self-finance colleges for the new academic session on 07/09/2020.  With this platform, now the students will be able to complete their entire admission process while sitting at home.
In his inaugural address, Chief Minister said that in view of the on-going COVID-19 Pandemic and ensuring the safety of the students, online admission platform has been launched so as to facilitate students to get admission while staying at their homes.
The online admission portal (https://dheadmissions.nic.in) has been developed by NIC in collaboration with the Higher Education Department.
Background of Online Admission Portal 2020:
Every year, all the budding 12th/diploma passed students seek admissions to various colleges under UG courses. Earlier the process use to be very complex, ambiguous with lot of loop holes in the system run by some private company. Also, this year there is a huge crisis due to the pandemic COVID situation. Students were not able to take admissions till this time due to the situation and all students' fraternity and their parents were in huge stress. To fill in the loop holes in the past and to tackle the current situation, NIC was roped in by the Department of Higher Education Haryana in the beginning of July 2020. A mandate was given to make a platform for the students and the colleges which will be completely contactless i.e. no physical contact of the student with the colleges. A state of the art application was developed and rolled out for admissions to more than 4 lacs students competing for taking admission in 350 colleges (Government Aided and Self Finance) having 2 lacs seats in approximately 100 courses by NIC in collaboration with the Department of Higher Education in a very short span of 45 days.
Salient Features of Portal:
Digi-Locker integration to fetch CBSE board student verified data.
With this one of its kind integration, a CBSE student from any part of the country is no more required to go through the manual cumbersome process for taking admission in UG courses. Student just has to enter the Board Roll No-Passing Year-Student Name and prefilled verified details will be fetched that includes:
 - All Personal details of the Student
 - 12th Board Marks total as well as subject wise
Other State boards like Haryana board has also been integrated with the application. The time taking manual process has been reduced to mere a 2 minutes application submission period
Various Certificates which are required at the time of taking admission such as Reservation certificate (SC/ST & BC certificate), Income Certificate (EWS), Domicile Certificate (Residence certificate) are integrated this year.
Student does not have to upload/submit all this certificates to claim any kind of benefit during the admission process. System only asks for the Certificate No (eDisha 15 Digit No) and authenticates the genuineness of the certificate.
Fully transparent system:
District-wise, College-wise courses, Course Seats, Course Fee are made available to the students (in public domain)
Seat Matrix as per State reservation policy made available to the students (in public domain)
100% student verification in Online Mode
85 % applications received so far are system verified (i.e. Digi locker verified).
15% applications manually filled by the students are going to be verified by colleges through Online Mode only. There is no physical contact of college with student.
Registration fee waived off this year unlike the previous years
There was a registration fee that student has to pay every year per college. (upto 750 Rs). This year the entire registration fee has been waived off.
Benchmarking/Rating of the Govt colleges of Haryana
To assist students in taking a better decision in choosing the college and courses.
Integration of Parivaar Pehchaan Patra with the Admission Portal
Linking of all the applications onto a single platform – an attempt for a Unified Enterprise Architecture so that to ensure the benefit reaching to the end genuine user by the State government.
Integration with all available Payment options
Due to Covid-19 pandemic, there is a mandate to restrict the physical contact of the student. Keeping in view, the admission portal has the provision for the student to make the payment of admission fee from all the options such as – Credit/Debit Card, all types of wallets, UPI payments, Net Banking, POS and BBPS.
Online Verification of Applications by Colleges
This is the first time that an online verification module has been provided to Government & Government Aided colleges for contactless verification of applications without bothering candidates.
College profile, Seat Matrix along with Fee
This is the first time that colleges' profile, seat matrix are being shown to the students along with course fee so that candidates can take better decision to choose the colleges & courses while applying for admission.