Launch of Administrators Dashboard of Chandigarh
Vivek Verma, Chandigarh
vivek[dot]verma[at]nic[dot]in
|
Jul 24, 2020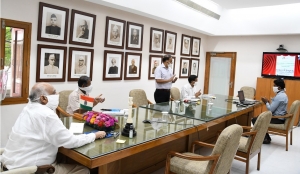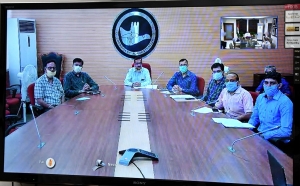 Hon'ble Punjab Governor and UT Administrator Sh. V.P. Singh Badnore launched Administrator's Dashboard of Chandigarh  (https://ch.govdashboard.nic.in) on 21st July 2020 at Raj Bhawan in the presence of Mr Manoj Kumar Parida, Adviser to the Administrator and other senior U.T. officers.  Mr Ajoy Kumar Sinha,  Finance Secretary gave the presentation of Administrator's Dashboard in which he highlighted the salient features. Other officers joined over VC from UT Secretariat.
The dashboard  has been prepared by NIC Chandigarh UT with support from NIC UP State Unit.   The launching of Administrator's Dashboard Chandigarh facilitates presentation of data on Key Performance Indicators (KPIs) of flagship schemes of centre and projects of the UT Chandigarh. At present the status of 81 Schemes/Services pertaining to Chandigarh UT are available on the dashboard.  Its access is given to all the Departments of Chandigarh Administration so as to enable them to update the data of Schemes/Services which are being implemented by them. Once the data of schemes/services, as per the defined KPIs and the frequency, is uploaded/updated by the departments, the same is verified by the Finance Department and the data is instantly reflected on the Administrator's Dashboard.     It is very user-friendly and the Departments can access information pertaining to UT at a glance which will help them in efficient monitoring of the schemes for taking appropriate and timely actions. The updation of information of schemes will vary depending upon the scheme and can be daily/weekly/monthly/yearly. The dashboard will be expanded to include schemes/projects/services of all departments.
Administrator appreciated the efforts put in by Finance department and NIC and said that it would be a very helpful and beneficial tool for all the decision makers.