Launching of eBhawan , Odisha Bhawan Management System by Honourable Chief Minister, Odisha
A. K. Hota, Odisha
ak[dot]hota[at]nic[dot]in
|
Jul 17, 2020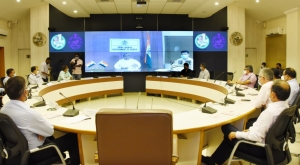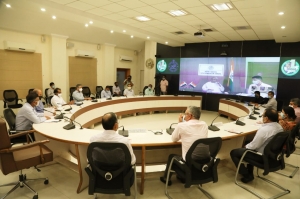 Hon'ble Chief Minister of Odisha, Shri Naveen Patnaik, launched the eBhawan application on 8th July 2020 as a part of 5T initiatives of Home Department, Govt. of Odisha.
Shri Sanjeev Chopra, IAS, Principal Secretary to Govt., Home department, welcoming Hon'ble CM and all senior dignitaries present on the occasion informed that the delivery of the application got detailed due to Covid Pandemic situation. However the development team has worked from home and trainings have been imparted to different stakeholders online during the period.
Shri Asit Kumar Tripathy, IAS, Chief Secretary, Odisha in his introductory address informed that eBhawan developed by NIC, Odisha would radically improve the way Home Department manages the applications received from various sources for allotment of rooms in its Bhawans / Niwas / Sadans presently located at New Delhi, Navi Mumbai, Kolkata and Chennai. Multiple Payment options (Cash / Card / e-Banking /POS) have been integrated for settlement of Bills.
During the launching by Hon'ble CM a documentary video developed for the purpose was played. The video highlighted the features of the application as follows.
·        Online Reservation and Allotment - for accommodation, Conveyance and protocol services at Bhawans located in Chennai, Kolkata, Mumbai and New Delhi
·         Real Time Status Tracking - Tracking of application status, visit history and payment details
·         Confirmation via SMS- Application receipt confirmation, room allocation intimation through SMS
·         Protocol Assistance for Senior Government Officials and Ministers – Intimation for Conveyance and protocol assistance through SMS
·         Efficient Check-In and Check- Automation of Check-in and check-out at reception desk of Bhawans
·         Integrated Billing – Room Rent, Canteen and Conveyance charges in a single bill
Offering Vote of Thanks Dr. Santosh Bala, IPS, Special Secretary to Govt., Home department appreciated the effort of dedicated NIC team comprising of Sri K. C. Pattnaik, Sr. Tech. Director and Dr. K. C. Panda, Technical Director to make the project successful.
Dr. A. K. Hota, Dy. Director General and HoD of the team was present on the occasion along with DC–cum-ACS and Secretaries of various departments including Finance, 5T, E&IT, Revenue etc.
The programme management was effectively coordinated by Sri Saroj Kumar Mishra, OAS(SG), Addl. Secretary to Govt., Home Department.
The project originally taken from NIC Keral has been customised as per the need of Odisha. The public interfaces have been redesigned in the responsive portal platform (Open source html 5, CSS3.0, Bootstrap, Jquery, Java Servlets, Spring Framework, PgSQl) for master data management, data listening & delivery.