Haryana Chief Minister, Sh. Manohar Lal launched the integration of three Social Security Pension Schemes with Parivar Pehchan Patra on 24/06/2020
Deepak Sawant, Haryana
sawant[dot]deepak[at]nic[dot]in
|
Jun 26, 2020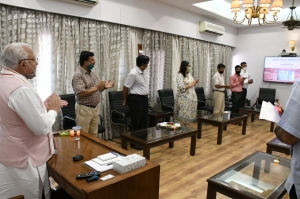 Shri Manohar Lal, Hon'ble Chief Minister, Haryana launched the integration of three Social Security Pension Schemes of Social Justice and Empowerment Department with the Parivar Pehchan Patra (PPP) portal at CM Residence, Chandigarh on 24/06/2020. This is second scheme after MMPSY (Mukhya Mantri Parivar Samridhi Yojna) launched with PPP (Family ID) as base for service delivery. Hon'ble CM has a vision to create a family database of state for various strategic and policy decisions and to integrate with all citizen services.
            To move forward in that direction, three Pension schemes namely Old Age Samman Allowance Scheme, Divyang Pension Scheme and Widow & Destitute Women Pension Scheme have been integrated with PPP. The beneficiaries of these three schemes of the Social Justice and Empowerment Department will be registered for the respective schemes through the Parivar Pehchan Patra (PPP) portal i.e. http://meraparivar.haryana.gov.in. The details of the family will be readily available on PPP Portal for the issuance of the pension to the beneficiaries. If the beneficiary does not have a Parivar Pehchan Patra (Family ID), then making of new family id will be initiated. The portal has been designed and developed by NIC Haryana.
         During the launch event, Sh. V. Umashankar, Additional Principal Secretary to Chief Minister, Sh. Anand Mohan Sharan, Principal Secretary, Social Justice & Empowerment Department, Sh. Bhupinder Singh, Director, Social Justice & Empowerment Department, Ms. Sofia Dahiya, Secretary, Citizen Resources Information Department, Sh. Deepak Bansal, Deputy Director General & State Informatics Officer, NIC-Haryana, Sh. Dharam Pal Saini, Scientist-E and Sh. Ashish, Scientist-C were present.