J and K - e-Launch of National Generic Document Registration System
Jit Raj, Jammu and Kashmir
jit[dot]raj[at]nic[dot]in
|
Jun 23, 2020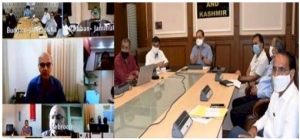 Jammu, 15th of June 2020: Advisor to the Hon'ble Lieutenant Governor, Shri K K Sharma, e-launched, through video-conferencing,  the National Generic Document Registration System (NGDRS) in the Union Territory of Jammu and Kashmir.This generic, flexible and cloud based computerized system of document registration has been developed by the National Informatics Centre (NIC) with administrative and financial support from the Department of Land Resources, Ministry of Rural Development, GoI.
The NGDRS is a web-enabled software application which has been deployed and hosted centrally in Jammu at the SDC as a J&K specific instance.The application is specially designed to be used by Sub Registrars, citizens, deed writers and senior level users from the Registration Department. The software product provides a complete workflow for Document Registration process.
Principal Secretary, Information Technical Department, Shri Bipul Pathak, IAS; Joint Secretary (LR) DoLR, MoRD, Shri H S Meena; Director General NIC New Delhi, Dr. Neeta Verma; National Head of Land Resource Informatics, Shri D.C. Misra, DDG; State Coordinator for NIC J&K, Mrs.Padmavathi Viswanathan; Divisional Commissioners of Kashmir and Jammu, senior officers of NIC from New Delhi and SDU Pune, Additional SIO NIC J&K, Mohd. Saleem Khan and all Deputy Commissioners of J&K attended the meeting through video conferencing.
On the occasion, the Advisor said that generic customizable software when universally adopted in the country will enable anywhere access to data and information to both the common man and the enforcement and regularity agencies. He added that transparency will be promoted due to registration through digital means and people will get the benefits in hassle free manner.
Dr.Pawan Kotwal, IAS and Inspector General of Registration said that this event signifies a remarkable transition from a manual system of carrying out the Process of Registration to a Computerized System of Registration.He added that the Government of J&K has decided to adopt NGDRS for roll out across the UT of J&K in all 20 Registrar Officer (RO) and 77 Sub Registrar Officer (SRO) sites spread over 20 districts.
DG, NIC Dr. Neeta Verma addressed the gathering on this occasion and apprised them about the role of NIC in e-Governance in general and this project, in particular. She assured of full support from NIC for making this project a success.
NIC's National Head of Land Resource Informatics, Shri D.C. Misra emphasized the importance of a robust and comprehensive program of Capacity Building in order to ensure the success of the project.
ASIO NIC J&K, Mohd.Saleem Khan, made a brief presentation on the salient features of NGDRS.