Haryana:- Launching Service for MSMEs to Raise Financing Related Grievances
Deepak Sawant, Haryana
sawant[dot]deepak[at]nic[dot]in
|
Jun 3, 2020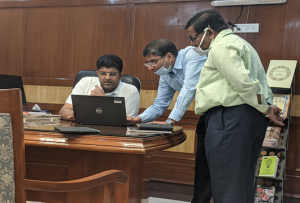 The economic impact of the COVID-19 pandemic in India has been largely disruptive. MSMEs across the nation are facing financial duress due to the pandemic. The Government of India launched an ambitious 'Atmanirbhar Bharat Abhiyan' economic package to assist industries, especially MSMEs to tide over the turbulent times caused by COVID-19 pandemic.
Government of Haryana understands and acknowledges the severity of challenges posed by the pandemic. In its endeavour to enable MSMEs in the state to take maximum benefits under the 'Atmanirbhar Bharat Abhiyan' economic package, State Government has launched a dedicated portal, "Portal for MSMEs to Raise Financing Related Grievances" to capture the MSME grievances in getting loans.
All the entrepreneurs in the state are requested to take the maximum possible benefits of the GoI programmes and report the credit related challenges faced, if any, through the portal. All such grievances reported will be followed by the State Government on a daily basis and will be resolved through branch level interventions.
In order to redress the grievances on priority, Shri Dushyant Chautala, Hon'ble Deputy Chief Minister Haryana  launched  the service  for MSMEs to Raise Financing Related Grievances on 29th May 2020 from his room.  Shri Vikas Gupta (IAS), Director MSME and Sh. Ramesh Gupta, Additional State Informatics Officer were also present on this occasion.
MSMEs of Haryana may submit their grievances related to :-
           1. If they are facing any credit related challenges. 
           2. if their loan has not been sanctioned.
           3. the loan has been sanctioned but not disbursed.
NIC Haryana has developed an online service  on Service Delivery portal Antodaya Saral of Haryana (https://saralharyana.gov.in) for MSMEs to Raise Financing Related Grievances for Department of the Industries and Commerce (MSMEs), Haryana to facilitate various industries and MSMEs to capture their grievances regarding credit related challenges.