Honorable PM launched CHAMPIONS portal developed by NIC
Shashi Kant Pandey, Delhi
sk[dot]pandey[at]nic[dot]in
|
Jun 1, 2020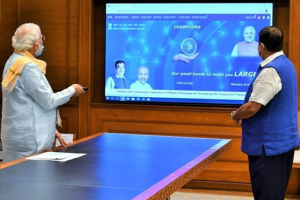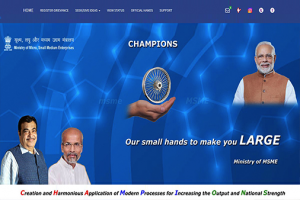 Hon'ble Prime Minister, Shri Narendra Modi has launched the CHAMPIONS portal http://champions.gov.in on June 1, 2020 at New Delhi, in the presence of Shri Nitin Gadkari, Hon'ble Minister of Micro, Small and Medium Enterprises (MSME) Ministry and Road Transport & Highways.
CHAMPIONS stands for Creation and Harmonious Application of Modern Processes for Increasing the Output and National Strength. Branded as a one-stop solution of Ministry of Micro, Small and Medium Enterprises, the portal seeks to solve the grievances of MSMEs besides encouraging. supporting, helping, and hand holding them. The ICT based system has been unveiled to aid the MSMEs in the current difficult situation arising out of the global pandemic KOVID-19 and to help them become national and international champions.
Developed by NIC-MSME Division, the portal aims at making the smaller units big by resolving their grievances, encouraging, supporting, helping and handholding.  The portal is also a technology packed control room-cum-management information system. In addition to ICT tools including telephone, internet and video conference, the system is enabled by Artificial Intelligence, Data Analytics and Machine Learning. It is also fully integrated on a real time basis with Government of India's main grievances portal CPGRAMS and other web based applications of the MSME Ministry.
A network of control rooms is created in a Hub & Spoke Model. The Hub is situated in the office of the Secretary, MSME Ministry at New Delhi and the spokes are in the various offices of the States and institutions of MSME Ministry. As of now, 66 state level control rooms are created and made functional. These control rooms are also  connected through video conferencing services of NIC.  A detailed Standard Operating Procedure (SOP) has been issued to the officers and staff  after they are provided with necessary training.