ICT Interventions using AePDS and PDS Labharthi Application in Bihar
Rajiv Ranjan, Bihar
rajiv[dot]ranjan[at]nic[dot]in
|
May 20, 2020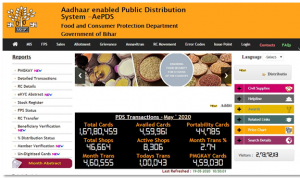 Nation-wide lockdown extending over 50 days saw poor families suffering most as they depend on daily livelihood. All these eligible families needed to be supported by timely supply of ration and financial contribution announced by the state govt.

Initiatives Taken
Entire ration distribution work has been brought in public domain via the website hosted at https://epos.bihar.gov.in

The dashboard available on this portal gets continuously updated and reflects key information on parameters like Fair Price Shops, Number of Ration Cards, Number of Families that have picked up their share of ration till date along with number of cards that have availed ration outside their registered place of residence using National Portability facility.

Generation of Ration Cards
Since the beginning of lockdown, a total of 10.21 lakhs applications have been received for generation of new ration cards and 7.86 lakhs cards have been successfully processed till date.

Financial Assistance to Ration Card Holders
Using DBT, a total of 131 lakhs ration card holders have been provided financial assistance of Rs. 1,000/- by the State Govt. Wherever Aadhaar-ID was not linked to a bank account combination, Sahyog Portal was made use of. A total of 22.67 lakh families have received assistance by submitting their Aadhaar-ID and Bank Account details.

Distribution of Ration
After distribution of Rice/Wheat among 1.67 crore ration card holders, distributions of Pulses have also started for the current month. So far, 3.58 lakhs families have received pulses as well.