Covid-19 and launch of Telemedicine Services by Chief Minister of Uttarakhand
Arvind Dadhichi, Uttaranchal
ak[dot]dadhichi[at]nic[dot]in
|
May 19, 2020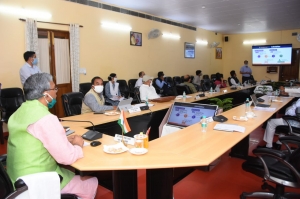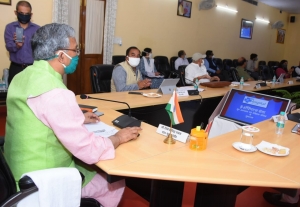 Sri Trivendra Singh Rawat Honourable Chief Minister of Uttarakhand  launched NIC Telemedicine Services in the State of Uttarakhand and E-Hospital at Doon Hospital - Medical College, Dehradun  using a solution developed by NIC Tripura and rollout managed by E-Hospital and ORS division NIC Hqs, New Delhi in the august presence of his Cabinet colleagues Sri Satpal Maharaj, Dr Harak Singh Rawat, Sri Madan Kaushik, Sri Arvind Pandey, Sri Subodh Uniyal  and Dr Dhan Singh Rawat.
Sri Nitesh Kumar Jha,  Secretary Medical, Health and Family Welfare and Medical Education while giving a comprehensive presentation explained that present difficult situation which has emerged due to worldwide pandemic Covid - 19 could be effectively handled in the state with introduction of such service by achieving reduction of contacts and maintaining social distancing. In order to mitigate the spread of such highly infectious disease, in coming times rush management at various health institutions across the state is going to be a great challenge. Since things are uncertain that how long it will continue, this service would change the business model of delivery of health services not only for the safety of the people but also by reach of specialized opinions to the people at remote places through experts from specialist sitting at higher health institutions such as District, Base and Combine hospitals and as well as from Medical Colleges. He explained that the simplicity of the NIC's solution lies in the service by its accessibility to the citizen through a smart mobile phone. Secretary informed the Cabinet that this facility initially is being extended at four hospitals namely Pt. Deen Dayal Coronation Hospital Dehradun, District Hospital Almora, Soban Singh Jeena Base Hospital, Haldwani, District Nainital and Combine Hospital Premnagar, Dehradun using NIC's software.
Secretary also demonstrated by taking the remote video link of District Hospital Almora where District Magistrate, Chief  Medical Officer and Chief Medical Superintendent of District Hospital Almora had a talk with the Chief Minister. Subsequently Chief Minister also spoke with doctors over video link who were sitting at Coronation Hospital, Dehradun and Doon Hospital – Medical College, Dehradun respectively.
Trigger of the idea and launch took just one week's time with hard work and effective and close coordination amongst teams working at District Hospital, Almora, Coronation Hospital, E-Hospital and ORS divisions of NIC Tripura, NIC New Delhi and NIC Uttarakhand. The effort, timings and idea were highly appreciated by cabinet ministers and senior officers present during the launch.
After the inauguration, while briefing to media Chief Minister said that these services would help in reducing congestion at hospitals, which would further reduce risk against Covid – 19 pandemic. Apart from this these facilities would also be a perfect tool in providing medical assistance in remote areas where adequate medical help is difficult to reach added the Chief Minister. He further added that with the introduction of e-Hospital at Doon Hospital – Medical College the quality of patient care would improve. He informed that e-Hospital is already being used at Pt. Deen Dayal Coronation Hospital Dehradun and District Hospital Almora. Uttarakhand Chief Minister further added that the telemedicine software provided by NIC, Government of India would be used at all district and other hospitals of the state.
The occasion was witnessed by Sri Utpal Kumar Singh, Chief Secretary, Sri Om Prakash, Additional Chief Secretary to CM, Smt Radha Raturi, Additional Chief Secretary - Personnel, Sri Amit Negi, Secretary-Gopan, Finance and Disaster Management, Sri Prem Singh Khimal, Secretary Law and LR, Smt Sowjanya, Secretary Finance and Chief Electoral Officer, Sri Shailesh Bagauli Secretary Transport and Urban, Sri R Meenakshi Sundaram, Secretary Education, Sri Nitesh Kumar Jha, Secretary Home, Housing and Health, Dr. Amita Upreti, Director General, Medical, Health and Family Welfare, Sri Yugal Kishore Pant, Mission Director, NHM, Sri K Narayanan, Deputy Director General and SIO, Sri Arvind Kumar Dadhichi, Scientist "F" & Sri Arun Sharma, Scientist "D" , NIC Uttarakhand.