Odisha Chief Minister Relief Fund Covid -19 Donation https:cmrfodisha.gov.in
A. K. Hota, Odisha
ak[dot]hota[at]nic[dot]in
|
Apr 22, 2020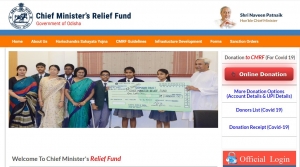 Hon'ble Chief Minister of Odisha has appealed all to donate generously to Chief Minister's Relief Fund in order to provide humanitarian help to the COVID-19 affected. In view of this, Government has opened dedicated accounts in State Bank of India, ICICI Bank and HDFC Bank for receipt of Covid -19 specific donations (Both Online & Offline).
As requested by Chief Minister's Relief Fund, General Administration and Public Grievance Department, payment gateways of SBI ePAY, ICICI Bank and HDFC Bank have been integrated with the online portal(https://cmrfodisha.gov.in), along with provisioning of facilities to receive online domestic donations from citizens of India, agencies, corporate, other State Governments and other national bodies through NET Banking, Credit cards, Debit Cards using payment gateways ( ICICI, SBI, Amazon Pay, HDFC).
Also, account details like Account Number, IFSC code, UPI details and QR Code of SBI, ICICI and HDFC banks are displayed in CMRF Odisha Web Portal for offline or online donations made through BHIM UPI QR CODE of SBI, ICICI Bank, HDFC Bank, using mobile apps like Google Pay, PhonePe etc.
Payment gateway of ICICI bank (Money2india) has been integrated with the portal for collection of donations from Foreign Nationals, NRI/PIO(Persons of Indian Origin)/ the Overseas Citizenship of India(OCI).
The CMRF online (https://cmrfodisha.gov.in) portal COVID-19 could have successfully collected donation amount of Rs. 05crores till 10th April 2020.
SMS and eMail communications have also provided to donors to conform his/her donation. Provision is also made for the online donors to download the donation receipt using donor id and mobile number through CMRF Web Portal.
As contribution to Chief Minister's Relief Fund entitles the donor to 100% exemption under section 80 G(2)(iiihf) of Income Tax Act.1961, an auto generated receipt (pdf file) is generated for successful donation. Along with online donors, module is developed to upload offline donor list in CMRF Web Portal for public viewing.