Honble Acting Chief Justice of Orissa High Court Launched website of Odisha State Legal Services Authority
A. K. Hota, Odisha
ak[dot]hota[at]nic[dot]in
|
Feb 26, 2020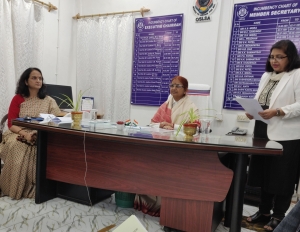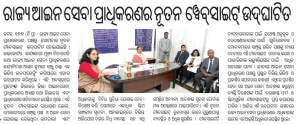 The poor, illiterate, weaker sections in our country suffer day in and out in their struggle for survival. They are unable to approach the appropriate courts of law on account of their poverty and ignorance of their legal rights even though they suffer injustice. In order to overcome such situation and to provide access to justice for all Odisha State Legal Services Authority (OSLSA) provides free legal Services to the Weaker Sections of the Community to ensure that opportunities for securing justice are not denied to any citizen by reason of economic or other disabilities.
In this context the new website of Odisha State Legal Services Authority www.oslsa.nic.in developed by NIC was inaugurated by  Hon'ble Kumari Justice Sanju Panda, Acting Chief Justice of Orissa High Court and Executive Chairperson of Odisha State legal Services Authority on 17.02.2020 at 4.30 PM at OSLSA, Cuttack, Odisha.
All the District Legal Services Authorities (DLSA) were connected through VC. 
Smt. Pratibha Singh, DDG and SIO, NIC, Odisha gave a detailed presentation of the website and its features.
Hon'ble Acting Chief Justice also interacted with the Chairpersons of the DLSAs regarding the website and its usefulness in dissemination of information about the services provided by OSLSA and the online application facility.
The website also provides information on Panel Lawyers, Para Legal Volunteers, Nyaya Sanjog etc. Role based authentication of District Legal Service Authority within the CMS will enable the officials to manage the content by themselves.
Hon'ble Acting Chief Justice appreciated the efforts made by NIC in the design, development and hosting of the website.
The Member Secretary of OSLSA, officers of OSLSA, NIC and NICSI were present on the occasion. VC facility was provided by VC division, NIC, Bhubaneswar.