Hon'ble Chief Minister, Himachal Pradesh Launches Crime Fee Himachal Mobile App
Ajay Singh Chahal, Himachal Pradesh
ajay[dot]chahal[at]nic[dot]in
|
Feb 14, 2020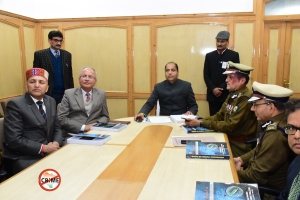 Sh. Jai Ram Thakur, Hon'ble Chief Minister, Himachal Pradesh launched the Crime Free Himachal, mobile App on 11-February-2020 at Shimla. Sh. Anil Khachi, Chief Secretary, Sh. S.R. Mardi, Director General of Police, Sh. Jagdish Chander, Principal Secretary (IT, PWD, Transport), Sh. S.B. Negi, ADGP, Sh. Atul Verma, DG (Home Guards), Sh. Asif Jalal, Inspector General (SR), Sh. Ajay Singh Chahal, SIO , Sh. Prithviraj Negi, NIC HP were present during the launch program.
Hon'ble Chief Minister, while launching the App, expressed hope that the App will meet its objective and that there is need to make it popular with citizens so that the State becomes crime free with safe living environment. He asked that the HP Police must start a campaign so that every citizen in HP is aware of the process to report any kind of crime to HP Police.
Sh. S.R. Mardi, Director General of Police. Himachal Pradesh explained the features of this App. He informed that the Mobile App enables citizens to report any kind of crime to HP Police without disclosing their identity. The citizens have the option to disclose their name and mobile number, in which case, they will be informed of the action taken by the HP Police in the reported matter. He appreciated that NIC HP has developed the Mobile App in a very short time.
The Mobile App has been developed by Centre of Competence for Mobile App Development, Shimla. The Crime Free Himachal mobile App is available on both Android and Apple (iOS) platforms. It can be downloaded from NIC's eGovernance Mobile App Store at https://egovmobileapps.nic.in/, State Portal of Himachal Pradesh Government at https://himachal.nic.in, Apple App Store and Google Play Store.