Governor felicitates State Award to NIC Uttarakhand Officers
Arvind Dadhichi, Uttaranchal
ak[dot]dadhichi[at]nic[dot]in
|
Jan 31, 2020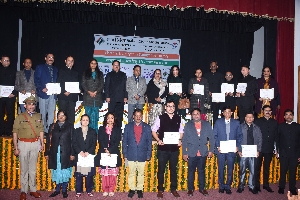 For Best Electoral Practices and for taking special IT initiatives Officers in the state during Lok Sabha Elections 2019,  officers of  NIC Uttarakhand were falicitated with State Award by HE the Governor of Uttarakhand  at Rajbhawan Dehradun.
The award was conferred to Sh A K Dadhichi, Sr Technical Director, Sh A K Arya, Sr Technical Director and Sh Manish Jugran, Technical Director in a function held at Rajbhawan on 25th Jan 2020 on the occasion of 10th National Voters Day. During the event Smt Sowjanya, Chief Electoral Officer, Sri Chandra Shekhar Bhatt, State Election Commissioner, Sri Ramesh Kumar Sudhanshu, Secretary to Governor and IT , District Magistrates and other senior officers were present.
During Lok Sabha Elections 2019 as new IT initiative, for first time in Uttarakhand, movement of Poll Personnel were tracked by a Mobile GPS based Vehicles Locations Tracking System by NIC Uttarakhand. In total, movement of around 6000 vehicles were tracked in online mode all over the State, including remote locations and monitored  at control rooms across the state by Election authorities, through the system.
For this system, NIC Uttarakhand had developed two separate portals and a mobile app. The first portal was for locating vehicles of Zonal, Sector magistrates, Field Surveillance Team & Assistant Returning Officers, who monitor election activities in their assigned geographical areas. The Second portal tracked movement of Vehicles carrying polling parties from Source to Destination, prior to Polling day & after completion of polling.
The Mobile App generates location parameters of vehicle periodically (Lat, Long) and transmits to destination portal, where it is collected & disseminated as Tables and Pictorial GIS. This being an Election project, the GIS layer was built on Google Map API provided by ECI to Uttarakhand. The information is displayed in Summarized and detailed formats, for election authorities at State and District levels. Facility was built in portal to search a vehicle based on parameters – Assembly Constituency, Zone, Sector, vehicle Number, Custodian Name, Mobile Number, Date and Time.