NIC Assam welcomes new Chief Secretary, Assam
Kavita Barkakoty, Assam
asm-kavita[at]nic[dot]in
|
Jan 20, 2020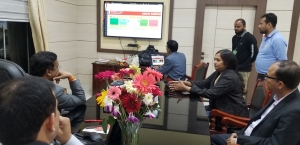 NIC Assam team met Sri Kumar Sanjay Krishna who had taken over as the new Chief Secretary of Assam.  The team, led by Smt. Suchitra Pyarelal SIO NIC Assam, greeted the new CS and gave an overview of the important initiatives.
The Chief Secretary was keen to implement the CS Dashboard and to have a daily report of the same displayed in his chamber. CS also wished to have the online leave of Manav Sampada to be implemented so that all Deputy Commissioners and officers reporting directly to the CS will apply online.
CS desired to have a detailed presentation of the major projects of NIC in the last week of January 2020.