e-Commerce Portal of Govt. Publications launched under Directorate of Printing, Stationery and Publication, Odisha
A. K. Hota, Odisha
ak[dot]hota[at]nic[dot]in
|
Jan 6, 2020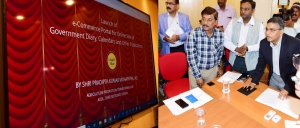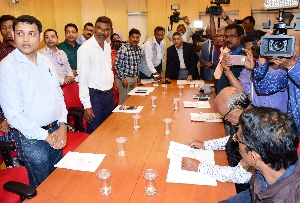 Sri Pradipta Kumar Mohapatra, IAS, Agriculture Production Commissioner-cum-Additional Chief Secretary inaugurated (https://ogpress.nic.in/diary) the e-Commerce portal of Govt. Publication under Directorate of Printing, Stationery and Publication, Government of Odisha, in the presence of Sri G. Srinivas, IAS Secretary Transport & Commerce, Sri Mahendra Pratap, IPS, Director Govt. Press and Sri Ashok Kumar Mohanty, Scientist-F and Project Coordinator, NIC  , Senior officers of various departments and  Print & Electronic Media.
Launching the portal, Sri Mohapatra explained the benefits of e-Commerce Portal. As a measure of 5-T charter of Government of Odisha, the Odisha Government Press has taken initiative to transform the present conventional system of sale to online sale of Government Diary, Calendars and other Government Publications with payment Gateway. The efforts made by NIC was highly appreciated by the Additional Chief Secretary during his Inaugural address.
Presenting details of the system with the video clip, Principal Secretary Commerce & Transport Sri G. Srinivas, IAS, explained that the Government Press generally prints the materials indented by Government Departments.  However, on the occasion of New Year, it prints Government Diaries-50,000 Nos., different varieties of Calendars-4,40,000 Nos. and also other publications etc. Now the general public or any user can pay online and get the delivery of the publications anytime and anywhere with the help of India Post. This website will make the Government Publications accessible to all the public both in the State and outside the State. Henceforth, the interested public can avail these publications and take advantage of e-Commerce Portal for online purchase of Diary, Calendars and other Government Publications in time.
Senior Technical Director, NIC highlighted the following features of e-Commerce portal: -
e-Commerce portal offers manifold amenities for citizens to buy all Government Publications apart from Government Diaries and Calendar throughout the year subject to availability.
On clicking on any of the product category, customer can view a list of all products available under that category.
Online purchase of Government Diaries & Calendars is available only for a stipulated period and the sale will close after the completion of the earmarked stock.
Payment gateway has already integrated with this e-Commerce system to make the payment seamlessly and securely for booking any of Government Publications, Diaries and Calendar.
After online order confirmation and dispatched, user will get the SMS notification according to given mobile no.
The dispatch of online sold Government Publications will be made after successful completion of online booking from the store within 07 working days from the date of purchase.
The cost of packing and forwarding are charged as per actual. The delivery of online booked Government Publications will be carried out through business parcel of India Post.
No repetition of booking by the same beneficiary are entertained in case of Government Diaries & Calendars for a particular year.
This "e- Commerce" software has been developed by Sri A. K. Mohanty, STD, NIC under the guidance, supervision and support of Smt. Pratibha Singh, DDG & SIO NIC, Odisha.