Inauguration of revamped website of Orissa High Court by Honble Chief Justice of Odisha
A. K. Hota, Odisha
ak[dot]hota[at]nic[dot]in
|
Jan 2, 2020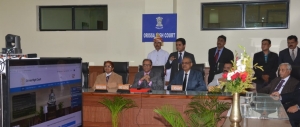 Hon'ble  Chief Justice of Odisha Mr. Justice Kalpesh Satyendra Jhaveri inaugurated the new website of Orissa High Court (https://orissahighcourt.nic.in) in the new conference hall of  the court in the presence of Hon'ble Judges of Orissa High Court, Hon'ble Advocate General , Odisha , Registrars of Orissa High Court, Smt. Pratibha Singh, DDG & State Informatics Officer , NIC,OSU and members from the Bar.
The new website is developed and hosted by NIC with an objective to adopt new technology and best practices. Equipped with a host of facilities and features the new revamped website is hoped to make accessing court and case related information considerably convenient for the common man.
SIO madam elaborated the features incorporated in the new site. The site is developed as per the GIGW guidelines and is made accessible for physically challenged persons.  Inclusion of CMS and role based authentication will enable the officials of Orissa High Court to manage the content with ease.
Among others Sri B. Subudhi, Sr.TD, NIC Orissa High Court Divn., Sri Sambit Kumar Panda, TD & GM NICSI   were present in the event.  The site was developed under able guidance of Smt. Pratibha Singh, DDG & SIO and active supervision of Sri Bibhu Prasad Mishra, Sr.TD and Group Head, Sri B.Subudhi, Sr.TD, Sri Sambit Kumar Panda, TD. The efforts extended by NIC were well appreciated.