Inauguration of Official mobile app of Kendrapara District
A. K. Hota, Odisha
ak[dot]hota[at]nic[dot]in
|
Dec 9, 2019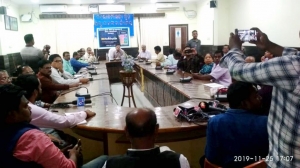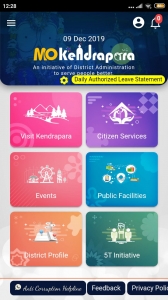 "MO Kendrapara", official mobile app of Kendrapara district was inaugurated by Shri Samarth Verma, IAS, Collector & District Magistrate, Kendrapara on 25.11.2019 in Collectorate Conference Hall, Kendrapara.
 In his inaugural address Collector, Kendrapara said, "MO-Kendrapara, official mobile app is an initiative   of district administration to serve people better regarding information sharing between government to citizen and citizen to government for transparency and accountability."
Coordinating the session Shri Debabrata Dalar, DIO, NIC, Kendrapara, demonstrated the detailed features of the app. He informed that information regarding various tourist spots of the district with google map location has been provided. Fairs and festivals of the district, Arts and culture like golden grass handicrafts, wood carving, terracotta information has been provided. Golden grass artisans contact details given for any trade enquiry.
Collector Shri Verma informed that for anti-corruption drive, people can send their grievance with proof through WhatsApp. Thirteen online services of seven departments have been connected under citizen services. Information on various upcoming events of the district is also available. Daily advance leave statements of five departments are now available.
Shri Sambit Panda, GM, NICSI participating in the inaugural session informed that list of beneficiaries can be downloaded from the App leading to 'Transparency' as a pillar of 5-T mandate of Government of Odisha. Feedback from citizens can obtained through registered users of the App.
Shri Verma appreciated the effort put in by DIO with support from NICSI, Odisha to develop the App and formulating roadmap for future enhancements. All senior district level Officers graced the occasion.