Honourable Chief Minister, Himachal Pradesh Launches National Generic Document Registration System of NIC
Sandeep Sood, Himachal Pradesh
sood[dot]sandeep[at]nic[dot]in
|
Sep 16, 2019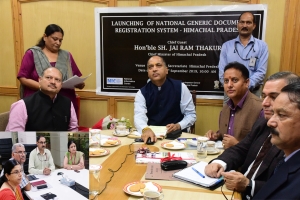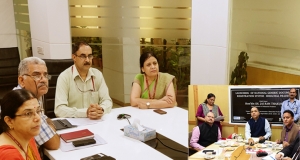 Sh. Jai Ram Thakur, Hon'ble Chief Minister, Himachal Pradesh launched the National Generic Document Registration System in two pilot Sub Registrar Offices of Shimla Urban and Kumarsain, on 12th September 2019. The first Registration Deed was handed over to the buyers by the Hon'ble Chief Minister, who appreciated the work of NIC and hoped that the initiative will really benefits the citizens of the State. Hon'ble CM also presented Appreciation Certificates to the IGR HP, NIC HP, and NIC Pune teams for their efforts in configuration, training and implementation of NGDRS software.
Sh. Ajay Prakash Sawhney, Secretary (Electronics & IT), GoI and Dr. Neeta Verma, Director General, NIC participated through Video Conference in the launch ceremony. The software will ensure data security and offer citizen centric services like online submission of documents, stamp duty calculation and online payment, fixation of appointment etc.
Dr. Shrikant Baldi, Chief Secretary, Sh. Sanjay Kundu, Principal Secretary to Hon'ble CM, Sh. Onkar Chand Sharma, Principal Secretary (Revenue) and Sh. Deva Singh Negi, Inspector General of Registration, Himachal Pradesh were present from the State Government.
Sh. H.S. Meena, Joint Secretary DOLR, GoI was also present at Shimla and in his speech he appreciated the role of NIC in developing the NGDRS software at a very low cost and replicating it in 6 States, Himachal Pradesh being the 7th State. He expressed the hope that it will help citizens in ensuring that their title deeds are secure and no fraudulent transactions take place in registrations of various deeds.
Sh. D.C. Misra, DDG & HOG and Smt. Padmavathi Viswanathan, DDG & HP State Coordinator were present with DG, NIC through VC. Sh. S.P. Kulshrestha, Head of SDC Pune participated from NIC Pune. Sh. Ajay Madhukar Joshi, Scientist-F, Smt. Anjali H Bembalkar, Scientist-F and Sh. Rajiv Goel, Scientist-F represented SDC Pune and NIC DoLR, New Delhi. Sh. Ajay Singh Chahal,  SIO NIC HP, Sh. Lalit Kapoor, ASIO & Project Coordinator, NGDRS HP, Sh. Ashish Sharma, Scientist-C, Sh. Shailender Kaushal, Scientist-E were present from NIC Himachal Pradesh.
The National Generic Document Registration System (NGDRS) is web enabled, cloud hosted with SSL, developed as a product on open source technologies and based on enterprise architecture framework. It allows citizens to pay online stamp duty, registration fee, fix appointment and submit documents in online mode. The NGDRS software has been developed by NIC Pune. The software has been configured and customized for the Government of Himachal Pradesh.