e-Pest Surveillance and Pest Management Automation System launched by Honorable Minister of Agriculture & Farmers Empowerment, Odisha
A. K. Hota, Odisha
ak[dot]hota[at]nic[dot]in
|
Aug 16, 2019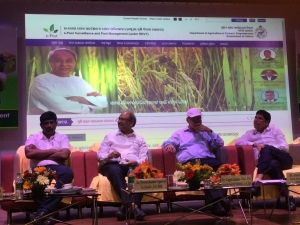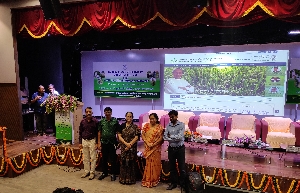 Dr. Arun Kumar Sahoo, Honorable Minister of Agriculture & Farmers'Empowerment, Government of Odisha, inaugurated the web portal of e-Pest Surveillance and Pest Management Automation System (www.epestodisha.nic.in) (under Rashtriya Krishi Vikas Yojana) at Krushi Bhawan Auditorium, Bhubaneswar on 7th August 2019. The Principal Secretary, Agriculture and other dignitaries were also present on the occasion and appreciated the system.
The initiative, headed by Smt. Pratibha Singh, Deputy Director General & State Informatics Officer, Odisha, and coordinated by Smt. Sarita Sahoo, Senior Technical Director, has been made successful with the support of Agriculture Team of NIC, Odisha.
The Honorable Minister motivated the Officers with a challenge to report pest incident before the media reports with a tag line "Media Vs. Mobile App".
The e-Pest Surveillance and Pest Management Program is a major component of IPM for major crops like paddy, mung, biri, arhar, groundnut, mustard, sugarcane, cotton etc. These crops are affected by a number of pests and diseases every year, thereby creating a lot of problem for farmers and damaging a major part of their production. To overcome these difficulties, it is most essential to follow a pest monitoring system in the state, which will check the spread of pests and diseases, reduce the crop loss, find out pest endemic pockets, enable timely issue of advisory to create awareness on pest management among farmers, and forecast pest problems in advance.
NIC, Odisha has designed four device agnostic mobile applications in PWA based technology supported by a powerful service worker concept for near real-time pest surveillance starting from Village Agricultural Worker (VAW) to Expert from State Agriculture University (SAU) and Joint Director (Plant Protection). As a result, farmers get instant pest advisory in Odia language from expert on the mobile, registered against Farmer ID.
A Dashboard has been designed for Assistant Agriculture Officer, District Agril. Officer, JDA (PP) for monitoring pest / disease situation across the state. A brief advisory has been collected online for high, moderate and low intensity pest / disease attacks from the expert of SAU and reflected on the website immediately.
An emergency Mobile app has been designed separately for farmers to intimate the department for any alarming pest condition and immediate advisories are pushed to farmers mobile from the expert. If any emergency situation arises then the expert gets an alert / notification over the mobile app.