Cyber Security Awareness Workshops held at Cabinet Secretariat, Rashtrapati Bhawan, New Delhi
Dr. Shubhag Chand, Delhi
shubhag[at]nic[dot]in
|
Jul 18, 2019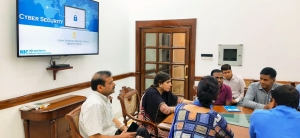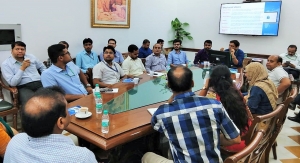 In an endeavor to acquaint its Officials with the increasing cyber threat and the need to preserve sensitive data, two separate workshops on Cyber Security Awareness were organized by NIC Cabinet Secretariat at Rashtrapati Bhawan, New Delhi, on 5th and 12th July 2019.
Workshop sessions started with an introductory speech by Smt. Indrani Gupta, Director (Administration), Cabinet Secretariat, and a short description on Cyber Security by Dr. Shubhag Chand, Head of Department & Senior Technical Director, Cabinet Secretariat Informatics Division.
Delivering a speech on Cyber Security, Shri Vijay Tiwari, Scientist - C, spoke about its importance, types of Cyber Attacks etc. During the session, live examples of phishing emails and spoofed webpages were provided. Ways to secure digital transactions in the age of Digital India were also discussed. Tips were provided on securing emails, web browsers and documents. At the end, best practices were shared and short videos were also shown to the participants.
A question & answer session was held wherein participants raised related queries on the topics discussed and they also gave feedback on the workshops.
Concluding the workshops, Smt. Indrani Gupta gave the Vote of Thanks and requested NIC for conducting such types of sessions in the future also.