Observation of Digital India Anniversary at NIC State Centre, Odisha
A. K. Hota, Odisha
ak[dot]hota[at]nic[dot]in
|
Jul 4, 2019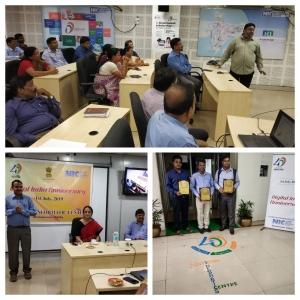 Digital India, the flagship program of Govt. of India was launched by Shri Narendra Modi, Hon'ble Prime Minister of India on 2nd July 2015. It has three essential vision areas: Country-wide digital literacy, delivering government services digitally and development of secure and stable Digital Infrastructure.
Introducing the concept of Digital India is the step towards a drastic and far-reaching change in ways of making a new India where citizens are digitally empowered and progressing economically. A sustained effort will transform India into a leading developed country with a trillion dollar economy.
India celebrated 1st July 2019 as the completion of 4 years of Digital India initiative. As a pioneer organization of Government of India in ICT field, National Informatics Centre (NIC) also observed the day, showcasing nationwide presence of Digital India Initiatives of the Government.
NIC, Odisha State also observed the day by conducting programs that showcased the collaborative efforts with State Government Department of Odisha.
The memorable day started with a discussion forum on "Digital Initiatives in State and District of Odisha" where Smt Pratibha Singh, DDG and SIO, NIC, Odisha and Senior Scientists from NIC, Odisha put forth their foresight on future positive implication of Digital India initiative in Odisha State. Shri Keshav Tripathy, Co-founder & CEO, Nirmalya Lab Pvt Ltd, a well-known figure in ICT industry in Bhubaneswar, graced the occasion as the guest speaker. He could bring the audience to envisage on Big Data, Analytic technology and other possible future technological trends that would drive Digital India Initiatives in urban and rural area of India. The officials of NIC, Odisha State and from District Centres of NIC of Odisha participated in the discussion forum through NIC's Video Conferencing Services.
The second event witnessed the participation of Shri C.J. Venugopal (IAS), Addl. Chief Secretary to Govt., Odisha, Dept of Electronics and IT at NIC, Odisha State Centre, Bhubaneswar. Smt Pratibha Singh, DDG and SIO, NIC, Odisha welcomed Shri Venugopal and thanked him for his whole hearted support and the exclusive collaboration of NIC, Odisha with his department due to which continual developments on ICT works towards fulfilling of the goals of Digital India are being implemented.
Shri Venugopal, in his inspirational speech, emphasized on various aspects of ICT technologies those can be brought with collaborative effort of Government and private sectors. He stressed on spreading Digital Services to mass and emphasized on the upcoming Bharat-Net through which ICT services can penetrate to Block and Panchayat levels. Shri Venugopal appreciated the efforts of NIC, Odisha for its dedicated involvement to bring the awareness among the citizen of entire Country. He pointed out that, though we celebrate the 4th year of Digital India today, NIC's effort to bring India to this stage of digital literacy and implementation has been since four decades.
Shri Venugopal felicitated Shri Tarini Behera (ADIO, NIC, Malkangiri), Shri Simanchal Sethi (DIO, NIC, Nuapada) and Shri Sidharth Kumar Mandal (ADIO, NIC, Ganjam) of NIC, Odisha for their outstanding works on this occasion.
On another occasion, in Krushi Bhawan, Bhubaneswar, Shri Hemant Kumar Panda, Director, Soil Conservation & Watershed Development, in presence of Mrs. Sarita Sahoo, Sr. Technical Director, NIC, Odisha and other senior Officials from Govt. of Odisha and NIC, inaugurated the official website https://soilodisha.nic.in.
This CMS based website, with GIGW compliance, developed by NIC, Odisha State Centre, Bhubaneswar, facilitates the user with information on the implementation of schemes, publishing Guidelines & important notices for officials and citizen and recent activities.