Delegation from Bangladesh visits Haryana to study IFHRMS Project
Deepak Sawant, Haryana
sawant[dot]deepak[at]nic[dot]in
|
Jun 18, 2019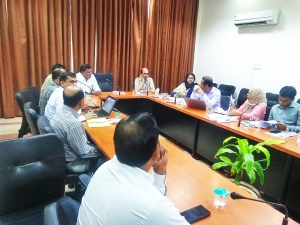 A delegation of six officers from Bangladesh visited Haryana on 13th June 2019 to study the Integrated Financial and Human Resource Management System (IFHRMS), being implemented by Haryana State, in coordination with NIC Haryana State Unit. The visit was made under "Digital Bangladesh" initiative taken by the Government of Bangladesh.
The delegation comprised of Shri Mohammad Mominul Hoque Bhiuyan, Additional Controller General of Accounts, Smt.  Ayesha Khanam, Chief Accounts Officer (CAO), Ministry of Home Affairs, Shri Shahazahan Siraz, Deputy Controller General of Accounts (Accounts) and Shri Md Atiar Rahman, System Analyst, CGA Office, from the Controller General of Accounts Office, Bangladesh, and Smt. Fatema Yasmin, Director, Management Information System, CAG Office and Shri Rajib Debnath, Assistant Comptroller and Auditor General (RRU), from the Comptroller & Auditor General Office, Bangladesh.
The delegation aimed at comprehending how the State of Haryana has digitized all treasury receipts and payments through e-Challan under Government Receipt Accounting System (e-GRAS) and learning from their experiences to have better implementation in their country. The High Commission for the People's Republic of Bangladesh in New Delhi had requested the Ministry of External affairs, Government of India, to facilitate the visit to Haryana. This was the first time that a foreign delegation visited to study Integrated Financial Management System of the State.
The team was received by Shri Sunil Saran, Secretary-cum-Advisor, Finance and Shri Deepak Bansal, Sr. Technical Director & State Informatics Officer, NIC Haryana. The team of NIC officers Shri Virender Trivedi, Scientist - E, Shri Jagdish Lal Mehndiratta, Scientist - E, Shri Yashpal, Scientist - E and Shri Ashish Dhingra, Scientist – C, led by Shri Deepak Bansal, gave a detailed demonstration on the complete workflow of IFHRMS.
The team was also given practical demo of e-GRAS and other major decision support report. The delegation appreciated IFHRMS project and its implementation in Haryana by State Government and NIC. They were impressed with technical development, implementation and support provided by NIC Haryana.