Honorable Mr. Justice Surya Kant, Chief Justice HP High Court Launches New Web Site
Sandeep Sood, Himachal Pradesh
sood[dot]sandeep[at]nic[dot]in
|
May 15, 2019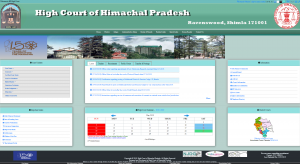 Honorable Justice Surya Kant, Chief Justice of Himachal Pradesh High Court, launched the new website of Himachal Pradesh High Court (https://hphighcourt.nic.in) on 14th May 2019. Honorable Justice Sureshwar Thakur, Honorable Justice Vivek Singh Thakur, Honorable Justice Ajay Mohan Goel, Honorable Justice Sandeep Sharma, Honorable Justice Chander Bhusan Barowalia and other dignitaries were present on the occasion. Shri Ashwani Kumar, Scientist-D and Shri Jitender Sharma, Scientific Assistant-B, from NIC High Court, also attended the launch.

The new website is responsive, and it is in compliance with the Guidelines for Indian Government Websites (GIGW) as well as the Web Content Accessibility Guidelines (WCAG). It also provides live case status. A case can be searched based on case number, FIR number, party name, advocate name or Act/Rule. A feature to search orders and judgments is also available and can be used by entering case number, coram, party, advocate, period and free text. The site also provides digital display board of the High Court and all the District and Subordinate Courts of Himachal Pradesh.

Honorable Justice Surya Kant, Chief Justice of Himachal Pradesh High Court, in his inaugural speech, said, "This website is available in both Hindi and English versions. The unique feature of the site is that it provides access to digital display boards depicting cases being taken up for hearing in District as well as Sub-divisional Courts in each Court in the state. The High Court of Himachal Pradesh is the first High Court in India to have provided such a facility."

The Honorable Chief Justice also appreciated the efforts of NIC and the High Court Technical Staff in developing the new website.