Training program on enhanced functionality on MoCA -eSamikSha (Ministry of Civil Aviation), on 29th April, 2019
Dr. Shubhag Chand, Delhi
shubhag[at]nic[dot]in
|
May 14, 2019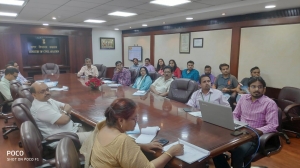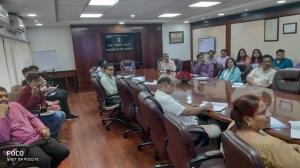 eSamikSha application is an online Monitoring and Compliance Mechanism, developed by NIC Cabinet Secretariat Informatics Division, to fast track the compliance of pending action points, proposal, targets, etc. of various Ministry/Department/Organization/Agency of Govt. of India, Government of States and UTs. The portal has been designed in such a way that it will enhance efficiency, bring transparency, reduce the need of protracted correspondence and improve the communication between Government to Government (G2G).
eSamikSha was replicated for Ministry of Civil Aviation for monitoring of  various meetings chaired by Hon'ble Minister of Civil Aviation & Secretary, &  coordination activities with the subordinate offices /attached offices.
As eSamikSha is equipped with the new modules i.e dynamic follow-up module &  eSamikSha forms, will assist in monitor the compliance status of the different projects, targets review by the Secretary, MoCA  & Senior Officials of the Ministry etc.
In this context, capacity building training program was held in Conference Room, Ministry of Civil Aviation, Rajiv Gandhi Bhawan, New Delhi on April, 29, 2019 for officials of Ministry Civil Aviation.  
Smt. Kushumlata Sharma, Director, Shri Pranjol Chandra, Director, and other officers of various division/department, subordinate/attached offices were  present during the training session.  
Training session has been taken by Shri Yogesh Agarwal, Scientist 'B' of the Cabinet Secretariat Informatics Division, started description about new Modules and enhanced functionality of existing modules and the workflow.  Training has been attended by more than 30 officials of Ministry of Civil Aviation & its attached offices. During the training session all new module integrated with MoCA-eSamikSha and various roles of respective users have been explained in detail.  
The session was ended with question & answer session  and the vote of thanks by Shri Pranjol Chandra, Director, Ministry of Civil Aviation .