Two day Training on GSTPRO Portal conducted at Raipur, Chhattisgarh
Y.V.Shreenivas Rao, Chattisgarh
yvsrao[at]nic[dot]in
|
May 6, 2019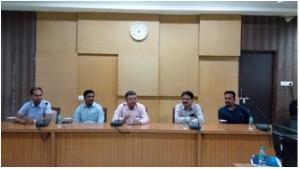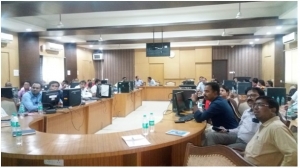 A Two day training programme on GSTPRO Portal was organized on 02.05.2019 & 03.05.2019 for officials of State GST Department, Chhattisgarh state.
The GSTPro software is developed by NIC Karnataka team headed by Sh.P.V.Bhat, DDG and  Chhattisgarh is the first  state to implement the software.
Sh. Dilip Kumar Debnath, SIO, Chhattisgarh while interacting with the participants, apprised them about the various features of GSTPRO portal and assured of complete support of NIC for implementation and training.
NIC officials from Karnataka Sh. Suresh Meti, Technical Director and Sh. P.Madhavan, Scientist-C conducted the workshop. The workshop was attended by all Division and circle officials across the state.
The main purposes of rolling out the GSTPro system in Chhattisgarh state  are :-
 1. To ensure GST compliance.
 2. To meet targeted tax collections.
 3. To automate GST processes for Chhattisgarh.
 4. To increase the tax base of GST system.
Features of GSTPro are Role based access, Work flow based system, User friendly, Communication interface through email and SMS, Feedback mechanism, Personalized Dashboard, Search Engine and Digital Scrutiny, Monitoring Reports, Analytic Reports, 360° view of Taxpayers, Matching Reports, Sectoral Analysis and E-Way Bill Interface etc..
Some of the important analytical reports like Non-filings of GSTR3B by top taxpayers and other taxpayers, Non-flings of GSTR1 by top taxpayers, Comparative tax payments by top taxpayers are very helpful to the officials for analysis.
The participants were introduced to various features and reports like Dashboard (Registration Statistics, Returns, Tax Collections), Updates, Search, Tax Payer Profile, Detailed Reports, Summary Reports, MIS Reports, Analytical Reports, E-Way Bill Tax Payer Profiles etc..
Hands on training was also conducted for the participants with live data of Tax Payers, Filers, Non Filers, SGST Tax Collection, Dashboard, Top Dealers, Analytical Reports, various types of MIS reports and E Way Bill.
The workshop was coordinated by Sh.P.RamaRao, Senior Technical Director, and Mr. Rishi K. Rai, Scientist-B, NIC Chhattisgarh State Centre, Raipur.