Hon'ble Chief Minister, HP Launches HP State Disaster Management Authority Website
Ajay Singh Chahal, Himachal Pradesh
ajay[dot]chahal[at]nic[dot]in
|
Dec 18, 2018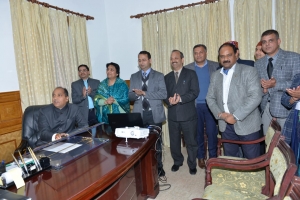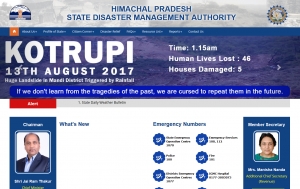 Sh. Jai Ram Thakur, Hon'ble Chief Minister, Himachal Pradesh launched the redesigned website of HP State Disaster Management Authority on 15th December 2018 at Dharamshala, District Kangra. Sh. B.K. Aggarwal, Chief Secretary, Smt. Manisha Nanda, Additional Chief Secretary Revenue, Sh. D.C. Rana, Director-cum-Special Secretary Revenue-Disaster Management, Sh. Vinay Singh, PS to HCM, Sh. Praveen Kumar Tak, Joint Secretary Revenue and Sh. Bhupinder Pathak, DIO Kangra were present during the inaugural ceremony.
The Website of Himachal Pradesh State Disaster Management Authority was first designed and launched in the year 2011. Thereafter, a lot of work has been done in disaster management in the State and a lot of new projects and programmes have been added. The new website of State Disaster Management Authority is updated version including all the new things which have been done in this field.
The website is very informative and exhaustive. It contains extensive information on hazard profile of the State, and status of current vulnerability and detailed hazard, risk and vulnerability analysis. The website gives details about the ongoing programmes for capacity building and new schemes launched by the State been created and integrated with this website to facilitate their registration and entry. The website also contains safety tips for various hazards and safe construction practices. The resource list contains list of helipads district wise with geo-coordinates, telephone directory of Government Offices/officials, etc.  It also contains links to India Disaster Resource Network which contains inventory of equipment, men and material of all the Districts.
For the information of general public, the website contains information about relief and relief norms. Lots of technical reports on Hazard Risk and Vulnerability Analysis (HRVA) of the State are available. Related data has been developed into a separate website and integrated with it.
The website uses latest advancements in website design. The objective is to provide a seamless experience to the visitors while navigating the site and to educate them about disaster management activities and safeguards. The information on this site has been structured in a user friendly manner with captivating pictures highlighting the theme of the HP SDMA. The site is now Mobile friendly and the design is Responsive so that users can view it on different screen size devices easily.