Hon'ble Chief Minister, Himachal Pradesh Launches HimPragati Portal for Projects Monitoring
Ajay Singh Chahal, Himachal Pradesh
ajay[dot]chahal[at]nic[dot]in
|
Oct 29, 2018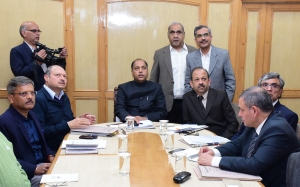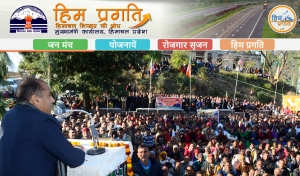 Sh. Jai Ram Thakur, Hon'ble Chief Minister, Himachal Pradesh launched the HimPragati portal at Shimla on 17th October 2018. Sh. B.K. Aggarwal, Chief Secretary, Dr. Shrikant Baldi, Additional Chief Secretary to CM, Sh. Ram Subhag Singh, ACS Tourism, Environment, Sh. Sanjay Kundu, Additional Principal Secretary to CM, Sh. D.C. Rana, Special Secretary to CM, Heads of Departments, Sh. Lalit Kapoor, ASIO and Sh. Sandeep Sood, TD were present during the launch ceremony.
Hon'ble Chief Minister expressed the hope that the portal will help in identifying important projects and fast track these by resolving any issues being faced in their execution. The private entrepreneurs can raise concerns through the CM office, which will be monitored closely by the PMU set up in the CM office for this purpose.
The portal has been developed on the lines of PRAGATI portal of Government of India, with the objective of ensuring timely completion of big projects in the Tourism, Power and Industry sectors. The main feature is that project executing agencies from the private sector can also enter their projects in the HimPragati portal to address obstacles being faced by them. These are scrutinized and approved by the Chief Minister Office so that the entrepreneur can raise department wise concerns.
The portal has been developed by NIC Himachal Pradesh. Sh. Sandeep Sood, Technical Director gave a presentation on the various features of the software.