Workshop cum Training Sessions on e-Constituency Management
Sandeep Sood, Himachal Pradesh
sood[dot]sandeep[at]nic[dot]in
|
Aug 8, 2018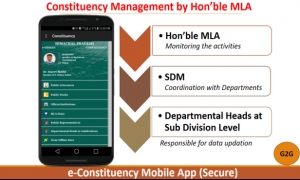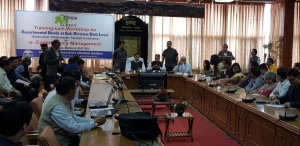 Himachal Pradesh Vidhan Sabha in association with NIC has organised 14 Workshop cum Training Programs on e-Constituency Management since 7th May 2018 covering 18 Assembly Constituencies of Himachal Pradesh. These programs were organised at various sub-divisions covering all the 12 Districts in the State.
Dr. Rajeev Bindal, Hon'ble Speaker of HP Vidhan Sabha, presided over the Training Sessions in most of the Assemblies. The Hon'ble MLAs of these ACs and Sub Division/District level Department Heads participated in the workshops held in their respective constituencies. Sh. Dharmesh Kumar, Sr. Technical Director, NIC at H.P. Vidhan Sabha gave the presentation and provided training during the workshops.
Training was provided for updating information in e-constituency Management Module of   e-Vidhan Application and installing the e-Constituency mobile app on the mobiles of the Hon'ble MLAs and Sub Division/District level Department Heads. Initially, the areas covered under e-Constituency Management application include MLS diary, public works and vacancy position of various departments in the Assembly segment.
e-Constituency Management is a step forward in eVidhan system set up in the HP Vidhan Sabha. The e-Vidhan application of Himachal Pradesh is being customized as National e-Vidhan Application (NEVA) by the NIC as per the directions of Ministry of Parliamentary Affairs, Govt. of India. This will enable its replication in all 40 Legislatures of India (Lok Sabha, Rajya Sabha, 31 Legislative Assemblies and 7 Legislative Councils).