Visit of SIO, Odisha to Koraput District and Launching of Darpan (DM Dashboard) at Koraput, Odisha
A. K. Hota, Odisha
ak[dot]hota[at]nic[dot]in
|
Aug 2, 2018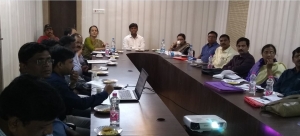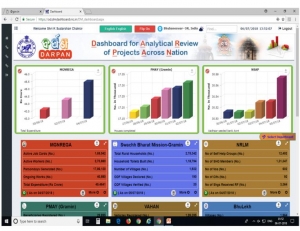 Deputy Director General & State Informatics Officer Smt Pratibha Singh along with Dr. A. K. Hota, STD & ASIO visited Koraput district NIC Centre and reviewed the implementation of various projects in the district. She interacted with FMS personnel and looked into infrastructure availability as well as various network connectivity provided to departments in Koraput. Later the team along with Technical Director & DIO Smt Sailabala Prusty, ADIO Shri Sasi Kumar Nakka, had meeting with Shri K Sudarshan Chakravarthy, IAS, Collector & District Magistrate Koraput.
Later, a meeting of all departmental officers was held under the chairmanship of Collector & District Magistrate Koraput for launching of DM Dashboard on 06/07/2018 at 6 PM in the Collector's Conference Hall. At the outset, Technical Director & District Informatics officer Smt Sailabala Prusty welcomed all the participants and highlighted that, this platform of DM Dashboard will facilitate the Collector to manage and enhance the performance of the schemes and programmes of Central and State Government implemented in the district in a more effective manner.
Inaugurating the dashboard Shri K. Sudarshan Chakravarthy, IAS, Collector and District Magistrate, Koraput informed that timely and effective implementation of schemes / projects is critical to the success of government programmes. Digital technology has proved to be extremely useful in planning, implementation as well as monitoring of government programmes. Appreciating the effort put in by NIC district and state team, he wished that the dashboard would certainly prove to be an effective tool.
In her introductory address of Smt. Pratibha Singh, Deputy Director General & State Informatics Officer informed that NIC has developed a comprehensive, generic and configurable Dashboard, which is an online tool to monitor and analyse the implementation of high priority programmes.
She also explained the activities of the National Informatics Centre and different projects just like e-Hospital, Bhulekh, Bhunaksha, DMS, LRMS (e-Mutation), Rainfall Monitoring, Land Acquisition, IVFRT, NDAL-ALIS, e-Scholarship, Agriculture (Seed Certification, DBT, Jalanidhi, Licensing, OSSOPCA Automation, Farm Mechanism) , e-Court, Transport (Vahan & Sarathi) ,GIS, Industries (EM1 & EM2), Home Dept., Election Management, ED Soft (Electricity Duty Collection & Monitoring), e-Procurement, Automation of Small Savings Activities, e-Counselling etc.
Senior Technical Director & Additional SIO Dr. Ashok Kumar Hota gave detailed presentation about the Open Government Data, National Govt. Services portal. He demonstrated the mobile application of Mother and Child health tracking system.
In the concluding address, the Collector and District Magistrate, Koraput expressed that the presentations were eye-opening for him as it gave an exhaustive coverage of e-Governance services provided by NIC. He asked for implementation of e-Hospital in the District Head Quarter Hospital, Koraput, integration of GIS maps in district portal, and to have the provisioning of Desktop Video conference facility for all the Sub-Collectors, BDOs and Tehasildars.