Inauguration of ORTPS (Odisha Right to Public Services) Daily Bulletin & Issuance of Record of Rights (RoR) in Digilocker
A. K. Hota, Odisha
ak[dot]hota[at]nic[dot]in
|
Aug 2, 2018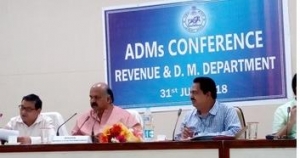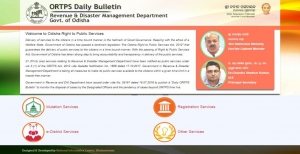 Sri Maheswar Mohanty, Hon'ble Minister, Revenue & Disaster Management Department, Government of Odisha, has inaugurated the "ORTPS (Odisha Right to Public Services) Daily Bulletin" and "Issuance of  Record of Rights (RoR) in DigiLocker" on 31st July 2018, in the conference hall of Rural Development Department, Govt. of Odisha. Dr. Chandra Shekhar Kumar, IAS, Principal Secretary, Revenue & Disaster Management Department was also present in the occasion.
The Odisha Right to Public Services Act, 2012 is enacted for delivering services to the citizens in a time bound manner. The objective is to bring accountability and transparency in delivery of the public services.Moving a step forward, Revenue & DM Department, Govt. of Odisha facilitated the citizens to pull their Record of Rights to their Digilocker account. The RoR data is pulled from Bhulekh database of NIC through web services. The team from National e-Governance Division (NeGD), New Delhi was also present in the august occasion. The NeGD team appreciated the efforts of NIC making the mission successful for provisioning RoRs in Digilocker. They expressed that, Odisha is the 1st State in the countryfacilitating this Revenue service in Digilocker.
The inauguration took place in the Additional District Magistrates' (ADMs) conference in Bhubaneswar on 31st July 2018. NIC also presented LRMS (Land Records Management System), RCCMS (Revenue Court Case Monitoring System), DWIST (Dynamic Web Information system of Tahasils), BhuNaksha and MTA (Manual of Tahasil Accounts) applications before the Hon'ble Minister. The Minister and Principal Secretary reviewed the ADMs with the help of Revenue Dash Board developed by NIC. Both have appreciated the use of ICT for Revenue Administration.
The  team headed by Sri Pabitrananda Patnaik, Sr. Technical Director along with other team members, Sri Bibekananda Das, Scientist-F, Sri JageswarSahu, Scientist-E and Sri Jagannath Prasad Bakshi, Scientist-D have successfully completed the task in time,with the leadership of Smt. Pratibha Singh, DDG & SIO, Odisha.
The NIC Odisha team is thankful for the support from NIC, Head Quarters, New Delhi team led by Sri D.C.Misra, DDG, along with officers such as Sri Ajay Madhukar Joshi, Sr. Technical Director, Sri D.S.Venkatesh, Technical Director, Sri M. V. Sunish Kumar, PSA and other team members. The inspiration from Smt. Neeta Verma, DG, NIC and Smt. Nandita Choudhury, DDG  & State Co-ordinator has greatly impacted the Odisha team to take Land Records project forward in the State.