Hon'ble Chief Minister, Himachal Pradesh Launches CM Samadhan Interface
Ajay Singh Chahal, Himachal Pradesh
ajay[dot]chahal[at]nic[dot]in
|
Jul 30, 2018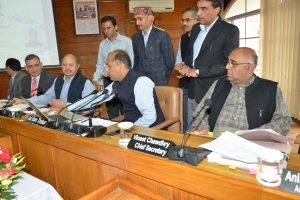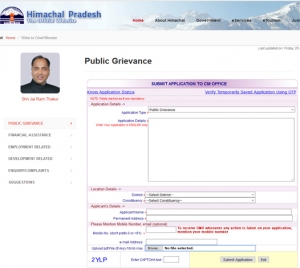 Sh. Jai Ram Thakur, Hon'ble Chief Minister, Himachal Pradesh, launched the integrated Write to Chief Minister Interface of eSamadhan on 20th July 2018 at Shimla. The Chief Secretary, HP, ACS to CM HP, ACS Finance, Additional Principal Secretary to CM and all Secretaries, Heads of Departments were present in the launch function. From NIC HP, Sh. Ajay Singh Chahal, SIO NIC HP, Sh. Sandeep Sood, TD, Sh. Sanjay Thakur, Scientist-D and Sh. Parveen Sharma, Scientist-B were present.
The NIC HP has developed this interface by integrating the CM-REFNIC software with eSamadhan and adding functionalities for 5 other kinds of applications which can be directly sent to the Hon'ble Chief Minister, Himachal Pradesh. These are employment related, seeking financial assistance, lodging complaints, inquiries and development works in addition to grievances. The reference types CM announcements and Others can also be sent to eSamadhan for online redressal by the concerned Department.
The existing eSamadhan software is available to general public at the Write to Chief Minister option on the official Himachal Pradesh Government portal. The CM-REFNIC software functions in the CM office. The advantage of this new interface will be that public can directly interact with the Hon'ble Chief Minister, whose office can track the progress of these issues electronically. The time to receive and deal any application will be reduced and paperless flow of application from Secretariat level to concerned office will also be time effective and can be properly monitored. The SIO HP made a presentation on the new interface.
The Hon'ble Chief Minister, in his address, asked all Departments to seriously respond to the electronic PUCs being sent to them through this interface.