Launch of Revenue Court Management System (RCMSPb) integrated with Land Records System
Vikram Jeet Grover, Punjab
grover[dot]vikram[at]nic[dot]in
|
Jul 12, 2018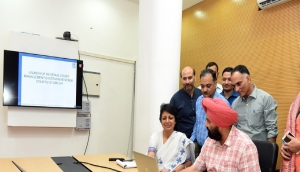 Honble revenue minister of Punjab Shri. Sukhbinder Singh Sarkaria launched Revenue Court Management Syatem (RCMSPb) on 11/07/2018 for pilot site at Tehsil Amloh in Fatehgarh Sahib district in the presence of top functionaries of department of revenue and Revenue commission members. RCMSPb is an ambitious and one of its kind project of Govt. of Punjab wherein revenue courts system is integrated with Land records system. This will help government, citizens as well as other stakeholders as information about revenue court related matters will be available in public domain.  It will also help in identification of properties under litigation as it is linked with LR system also.
RCMSPb, a Web Enabled initiative, is designed specifically for all Revenue Courts throughout states and covers complete workflow form case Institution, capturing the Petitioner/Respondent details, Property details under dispute, updation of hearing date, provision to change hearing date(s), entering of case proceeding, generation of various kinds of Summons, Cause List, parameterised Cause List, Uploading of various kinds of documents, Dashboard for senior officers etc.
RCMSPb is two-way tightly integrated with computerized land Record System Punjab. All the property related data along with location details is pulled in different interfaces in RCMSPB from land Record database through web-services.  The LR system also utilizes data shared by RCMSPb system on the case details as well as on varied status of case through web-services. The data is exchanged between the two systems automatically without any manual intervention on initiation of a case in RCMSPb or when the case status of that particular  property under dispute is updated and the remarks column of the Jamabandi is automatically updated accordingly.
The Minister was briefed about RCMSPb system and its features by Smt. Vini Mahajan, IAS Additional Chief Secretary/Financial Commissioner and Sh.Vikram Jeet Grover SrTD & Addl SIO(State). ACS/Financial Commissioner, while briefing the Revenue minister about the system, highly appreciated the role of NIC Punjab team for the development of RCMSPb for coming with a quality product within tight timelines.  The launch ceremony was also attended by Secretary (Revenue) along with other departmental officers and DC fatehgarh Sahib & SDM Amloh through VC.
The RCMSPb team of NIC Punjab comprising of Sh. Satyender Kumar, SIO  , Sh. Anoop Kumar Jalali Technical Director, Sh. Sanjay Puri PSA and Sh Virender Dhanda Sc. Officer were also present during the launch.