Inauguration of Land Records Management System (LRMS) and Dynamic Web Information System of Tahasils (DWIST) of NIC, Odisha
A. K. Hota, Odisha
ak[dot]hota[at]nic[dot]in
|
Apr 10, 2018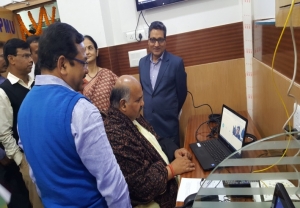 Sri Maheswar Mohanty, Hon'ble Minister, Revenue & Disaster Management Department, Government of  Odisha, has inaugurated the operationalization of Land Records Management System (LRMS) in 38 Tahasils in Odisha and Dynamic Web Information System of  Tahasils (DWIST) in the Revenue & DM  Department of Odisha Secretariat. Earlier, the LRMS was operational in 11 Tahasils. Now, Revenue & DM department has taken steps to provide 2 Mbps, dedicated MPLS connectivity to the Tahasils and make LRMS operational in high transaction Tahasils such as Bhubaneswar, Cuttack, Berhampur, Rourkela, Sambalpur etc.
The DWIST is designed  both in English and Odia with an in-house common framework for all the 317 Tahasils to disseminate Tahasil information to the public.
The Additional District Magistrates (ADMs), DIOs/ADIOs/DIAs of NIC District Units along with Tahasildars and other District level officers  participated in the august event through Video Conferencing.
To provide technical support to the Tahasils effectively, one Project Management Unit (PMU) was established in the Revenue & DM Department of Odisha. The PMU was also inaugurated by Hon'ble Revenue & DM Minister on that day.
In the inaugural speech, Hon'ble  Minister and Principal Secretary, Revenue & Disaster  Management  Department whole heartedly congratulated the efforts of NIC Team. The DIOs were highly appreciated for their untiring work at District level to make Land Records projects successful.
The NIC team led by Smt. Pratibha Singh, SIO, NIC, Odisha presented the project details to the Hon'ble Minister. The development  was  headed  by Sri Pabitrananda Patnaik,  Sr. Technical Director, along with Sri Jageswar Sahu, Technical Director and Sri Jagannath Prasad Bakshi, PSA. The NIC officers from Board of  Revenue end, Sri Bibekananda Das, Sr. Technical Director and Smt. Ambika Mohanty, PSA, have also made commendable contribution for the success of the projects.
The NIC Odisha team is grateful for the support from NIC, Head Quarters, New Delhi Team led by Sri D.C.Misra, DDG, Smt. Nandita Choudhury, DDG & State Co-ordinator, and the inspiration from DG, NIC to take Land Records project forward in the State. The appreciation to NIC by Hon'ble Minister and Principal Secretary received a big applause from all the participants at the event.