Inauguration of Revenue Court Case Monitoring System (RCCMS) and booklet on e-governance initiatives by Revenue & Disaster Management dept, Govt. of Odisha
A. K. Hota, Odisha
ak[dot]hota[at]nic[dot]in
|
Mar 7, 2018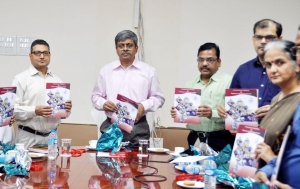 Sri Aditya Prasad Padhi, IAS, Chief  Secretary, Odisha  inaugurated the Revenue Court Case Monitoring System (RCCMS), developed  by NIC, Bhubaneswar,  on 27th February, 2018 in the Conference Hall of  Revenue & Disaster Management Department, Govt. of Odisha.
RCCMS is a workflow based system covering the Mutation cases along with Appeal cases relating to Land Records. The Revenue courts of Tahasildar, Sub-Collector, Additional District Magistrate (ADM), Collector, Revenue Divisional Commissioner (RDC) and Member, Board of Revenue have been provided access to the software. The status of the case starting from processing stages to final disposal is made available to the public.
Besides this, a booklet "e-Governance Initiatives by Revenue and DM Department" was also inaugurated by Chief Secretary on that auspicious occasion. The booklet covers the ICT projects taken up by Revenue Departments such as e-Mutation, e-Registration, Dynamic Web Information System of Tahasils (DWIST), Document Management System (DMS), Revenue Court Case Monitoring System (RCCMS) and Manual of Tahasil Accounts (MTA). All the ICT projects mentioned above except e-Registration are developed and rolled out by NIC, Odisha.
The Additional District Magistrates (ADMs), DIOs/ADIOs/DIAs of NIC District Units along with Tahasildars and other District level officers  participated in the august event through Video Conferencing.
In the inaugural speech, the Chief Secretary congratulated the efforts of NIC Team. The Principal Secretary, Revenue & DM department, Dr. Chandra Shekhar Kumar, IAS, also appreciated the efforts of NIC, Odisha for successfully implementing the projects. He appreciated contribution of DIOs in extending technical support at District and Tahasil levels.
With the guidance of Smt. Pratibha Singh, SIO, the Land Records team of NIC, Odisha headed by Sri Pabitrananda Patnaik,  Sr. Technical Director, along with Sri Jageswar Sahu, Technical Director, Sri Jagannath Prasad Bakshi, PSA and Sri Deepak Kumar Amat, SA has successfully rolled out the projects. The NIC officers Sri Bibekananda Das, Sr. Technical Director and Smt. Ambika Mohanty, PSA, from Board of Revenue, Cuttack, have also made commendable contribution to bring success in these projects.
The NIC Odisha team is grateful for the support from NIC, Head Quarters, New Delhi team led by Sri D. C. Misra, DDG, along with officers such as Sri Ajay Madhukar Joshi, Sr. Technical Director, Sri D. S. Venkatesh, Technical Director, Sri M. V. Sunish Kumar, PSA, Smt. Om Lata, SSA, Smt. Sanjukta Pradhan, SA, Smt. Kanika Bansal, STA and others. The inspiration from Smt. Neeta Verma, DG, NIC and Smt. Nandita Choudhury, DDG & State Co-Ordinator  has greatly impacted  to take Land Records project ahead in Odisha.