Workshop on University Enterprise Architecture Framework at Panjab University, Chandigarh on 12th January 2018
Vivek Verma, Chandigarh
vivek[dot]verma[at]nic[dot]in
|
Jan 16, 2018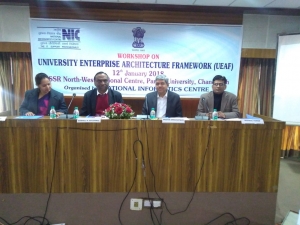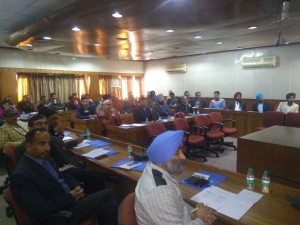 With an aim to cater to the Digital India Vision in the field of Higher Education, the government has initiated the process of conceptualizing the enterprise architecture framework leading to a design of common, configurable ERP System addressing variety of eGovernance needs of the universities - University Enterprise Architecture Framework. To discuss this, a  one day Regional Workshop was organized by National Informatics Centre, Chandigarh  at ICSSR North-West Regional Centre, Punjab University, Chandigarh on 12th January 2018.
More than 50 delegates from various universities/Institutes of Punjab, Haryana, Himachal Pradesh, Jammu & Kashmir, Chandigarh UT and  NIC officers from these states attended this workshop.
This workshop was to present the understanding gained so far and to make an attempt to capture information about remaining areas of the university functions for comprehensive understanding of university domain. The sessions were interactive and the participants provided very valuable inputs during the sessions.
Welcoming the delegates, Ms Pratibha Singh, Technical Director, NIC Chandigarh highlighted the importance of the workshop and gave a brief overview of the day long deliberations.  In his presentation, Mr Anshul Kumar Aggarwal, STD, NIC Hqrs. New Delhi explained to the audience the importance of having a common framework and listed the components of the proposed framework. Delegates shared their experiences and also provided valuable insight into the new requirements, required to be considered, in view of the changing scenario in every field. Mr Susheel Kumar, STD NIC Haryana, while proposing a vote of thanks informed all the delegates about the valuable feedback given and acknowledged their presence for making the workshop a success.
Sh. Mahavir Singh Dhankar from Deenbandhu Chhotu Ram University of Science and Technology, Murthal, Sonepat, demonstrated the online Student and Examination portal developed in-house by university.  The representatives from Maharishi Dayanand University, Rohtak, informed that they have implemented SAP ERP solution partially. Mr  Anil Vohra from Bhagat Phool Singh Mahila Vishwavidyalaya, Khanpur Kalan, Haryana added that they have developed eSuvidha App to facilitate more interactive ways for the university students. The delegates from Guru Jambheshwar University of Science & Technology and  Chaudhary Charan Singh Haryana Agricultural University, Hissar also mentioned about the software developed in their university. The participants from Panjab University, Chandigarh explained the workflow of various processes in place. A large number of activities have been computerized in-house in PU to facilitate ICT to students, teachers and administration.
All participants appreciated the efforts of NIC for conceptualization of a comprehensive solution for University Enterprise Architecture Framework as there is no integrated solution available for the Universities so far. They also emphasized for an immediate delivery of a secure, integrated, cost effective ICT solution for their University/Institution.