Honourable Chief Minister, Himachal Pradesh Inaugurates Projects Worth 70 Crore through NIC VC
Ajay Singh Chahal, Himachal Pradesh
ajay[dot]chahal[at]nic[dot]in
|
Aug 2, 2017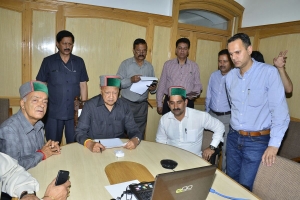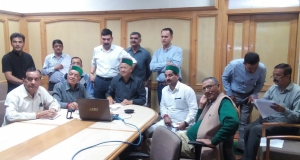 Sh. Virbhadra Singh, Hon'ble Chief Minister, Himachal Pradesh inaugurated various projects in District Kangra on 29th July 2017 through Video Conferencing from HP Secretariat. The Chief Minister could not travel to Kangra due to bad weather condition. The concerned Ministers, Deputy Commissioner and Superintendent of Police were present at the Project locations.
The SDM office at Indora was inaugurated where Sh. C.P. Verma, Deputy Commissioner, Kangra was present. Thereafter, Minister for Transport, Technical Education and Food, Civil Supplies, Sh. G.S. Bali inaugurated projects relating to his Departments. Sh. Sujjan Singh Pathania, Minister for Power and Agriculture opened the 133 KV electric sub-station and unveiled plaques on behalf of the Chief Minister. A Polytechnic College for Women has been started at Kadana (Rehan).
The Chief Minister inaugurated the Ayurveda Hospital at Nurpur, where the local MLA, Sh. Ajay Mahajan was present and a Police Post at Dhangupeer. The Chief Minister interacted with the Ministers and Officers present at these locations and hoped that the projects will benefit the local population as these relate to supply of electricity and water, education and administration.
The NIC provided the VC facility from the CM Office VC studio to link with the remote locations using social media and mobile phones of the officers present at the locations. Sh. Shailender Kaushal, Scientist-D coordinated the VC from the CM Office along with the Sh. Akshay Mehta, ADIO Kangra and FMS resources.