Workshop on Online Retailer Module and e-Payment Module for OSBC
A. K. Hota, Odisha
ak[dot]hota[at]nic[dot]in
|
Feb 15, 2017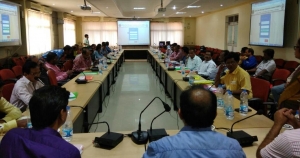 One day training cum workshop was organised on 8th February' 2017 at Madhusudan Das Regional Academy of Financial Management, Chandrasekharpur, Bhubaneswar, for all Depot level officials of Odisha State Beverages Corporation Limited (OSBCL), Bhubaneswar, Odisha.
Inaugurating the training programme Shri Dwijraj Kar, IAS, Managing Director, briefed about the objective of the project which aims to create an integrated web based platform to connect processes of high importance and thereby providing OSBCL an effective control over the liquor distribution processes.
He informed that the most critical and desired outcome is to provide all necessary controlling tools to regulate the procurement and distribution of liquor in the state. The real-time activities happening in different processes would enable Corporation in taking appropriate decisions at right time.
The objective of Corporation to regulate the distribution of liquor and to provide authentic Liquor to end consumers could effectively be achieved through the implementation of right technology at right places. That is exactly what this Computerization Project aims at achieving.
He further added, this online process simplified and streamlined the procedures of the corporation by eliminating non-value adding processes from the system and made excise administration transparent with fair and unbiased service at the lowest cost. It also acts as an effective tool to ensure that all liquor and other intoxicants available in the state for the consumers are sourced through legal channels without any loss of revenue to the state government on account of excise duties and import fees.
Dr. Ashis Kumar Mahapatra, Scientist-D, NIC, Bhubaneswar, presented the workflow of the application and informed that the comprehensive plan of making the corporation technology enabled is to channelize the flow of material and money through the Supply Chain, thereby providing a scope of increasing the velocity and volume of transactions taking place. Greater transactions at higher speed mean a lot more revenue opportunity for the organization.
The project aims to create a win-win situation for all the stakeholders involved in day to day activities at OSBCL. For a supplier the quicker approval process (indent to permit) means better inventory control and faster order processing. Whereas for a retailer, having real time inventory information and option to buy online, provides a hassle free purchase experience. This way the Demand and Supply in the state could be balanced accurately, thereby resulting in happy end customers.
Online application is associated with following innovative practices:-
•       Pendency Checker for tracking process pendency for all hierarchy levels
•       Dynamic role based feature for individual users
•       Provisioning of alerts according to the user role type
•       SMS gateway integration with auto SMS notification facility
•       Application tracking on the fly by few clicks
•       Checking authenticity of QR-coded Permits on road through QRCode reader mobile apps by excise officers using smart phone devices.
National Informatics Centre (NIC), Odisha, the State Government -  right from the Hon'ble Minister-In-Charge, Principal Secretary, MD to Department functionaries have worked in a synchronized manner to achieve this massive task of creating necessary infrastructure, coordinating developments and taking benefits to the stakeholders.
The training programme was conducted under the guidance of Sri P. K. Pramanik, DDG and SIO, NIC (Odisha). Dr. A. K. Hota, Senior Technical Director and Sri V. Venu Gopala Rao, Technical Director, NIC, extended their wholehearted support for success of the workshop. 
This online project is a noteworthy effort and sets an example for other projects in Odisha in its approach towards piloting a project, as well as its rolling out and sustenance.