Chief Secretary, Odisha, inaugurated OSBCSoft online module https://osbc.gov.in/
A. K. Hota, Odisha
ak[dot]hota[at]nic[dot]in
|
Jan 11, 2017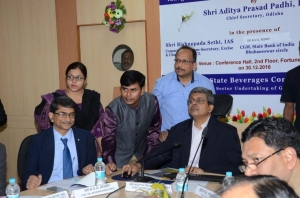 The inauguration of the online module for the licensed retailers of Foreign Liquor and Country Spirit of Odisha for making their online payment to Odisha State Beverages Corporation Ltd. to lift liquor stock from the Corporation's warehouses was done by Shri Aditya Prasad Padhi, IAS, Chief Secretary, Odisha, at Fortune Tower on 30.12.2016.
Welcoming the guests Sri P.K. Pramanik, Deputy Director General & State Informatics Officer, NIC, Odisha, informed that the retailers will be able to remit their payment to OSBC for purchase of liquor on an online platform through net banking on a payment gateway path of SBIePay. This will not only ensure faster remittance and credit of funds to OSBC account but also it will save a lot of time, energy and money which the retailers are now incurring in making Bank Drafts at the Bank and coming physically to the OSBC depots to deposit the same for lifting liquor stock.
Briefing the initiatives so far, Sri Dwijraj Kar, OAS, Managing Director, OSBC,  informed that Odisha State Beverages Corporation started its journey towards online digital regime in 2014 and in August 2015 implemented generation of indent by the liquor suppliers, purchase orders by the Corporation, excise permits by the excise authority, consignment dispatch note by the liquor suppliers and stock receipt note by the Corporation on a cent percent real time online platform in all its nine depots. Since May 2016 the issue of stock to the retailers' batch wise has been started on online platform. NIC, Bhubaneswar has taken the responsibility of developing and maintaining the software for the online regime.
Addressing on the occasion, Sri Bishnupada Sethi, IAS, Commissioner-cum-Secretary to Govt., Excise Department, updated that there are 1848 retail shop licensees in Odisha who are purchasing liquor from OSBC warehouses located at 9 different places across the State. These licensees include IMFL OFF Shops, IMFL ON Shops, Beer Parlours, Clubs, Country Spirit shops and Military Canteens. So far these shops were purchasing liquor stock from OSBC by making payment in shape of Bank Draft. With the advent of online payment mode, the hassles associated with payment through Bank Draft will now be removed and the payment system will be prompt, seamless, transparent, reconciliation friendly and expense-free.
Inaugurating the online module, Chief Secretary, briefed that this is a part of the present Digital India Movement in the Country and a step forward in complying with the slogan of cashless economy recently being emphasized by the State Government. He appreciated the effort put in jointly by NIC, SBI and OSBC to make this happen.
Dr. Ashis Kumar Mahapatra, Scientist-D, presenting the workflow of the application informed that the online payment mode will be implemented first in Chandikhol depot covering on the retail shops of Jajpur District and subsequently rolled over to other depots by 31st March, 2017. One retailer from Jajpur district also performed the online transaction himself on the occasion.
Sri B.V.G. Reddy, CGM, SBI, Bhubaneswar circle, Sri P.K. Senapati, IAS, Excise Commissioner, Sri Anil Johari, General Manager (Networking-I), SBI, Dr. A. K. Hota, Senior Technical Director, NIC and officials from OSBC, SBI & NIC  were present among others during the inauguration.