Digital India Award 2016 to MDM Mobile App of NIC Himachal Pradesh
Sandeep Sood, Himachal Pradesh
sood[dot]sandeep[at]nic[dot]in
|
Dec 22, 2016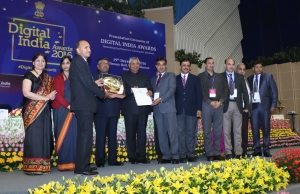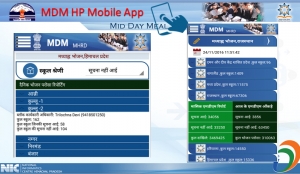 The Mid Day Meal mobile App of NIC Himachal Pradesh has been awarded the Digital India Gold Award 2016 on 19th December 2016 during the presentation ceremony of the Awards at Vigyan Bhawan, New Delhi.
Sh. Ravi Shankar Prasad, Hon'ble Union Minister for Electronics and Information Technology, Law and Justice conferred these awards in the presence of Sh. P.P. Chaudhary, Hon'ble Minister of State, Electronics and IT, Law and Justice. Ms. Aruna Sundarajan, Secretary, MeitY, Dr. Chinadram, Principal Scientific Advisor to GoI, Dr. Ajay Kumar, Additional Secretary, MeitY and Ms. Neeta Verma, Director General NIC were the guests of honour.
The award was received by the Principal Secretary (IT), HP Government, Director of Elementary Education, HP and NIC Himachal Pradesh team led by the SIO. The team members of the MDM mobile app are Sh. Manmohan Sharma, Sh. Ashish Kohli, Sh. Naresh Sharma, Sh. Ajay Singh Chahal, Sh. Lalit Kapoor, Sh. Sandeep Sood, Sh. Sanjay Kumar, Sh. Sanjay Sharma, Sh. Sandeep Kumar, Sh. Ashish Sharma, Sh. CL Kashyap, Sh. Sarvjeet Kumar and Sh. Amit Kanojia.
Mid-Day Meal mobile app is meant for effective reporting and monitoring of daily and monthly mid-day meal data to be sent by the schools. The app provides additional data communication mechanism for the MDM in-charge/teacher who has to send the daily/monthly data using SMS. The app, once installed on android device, does not need Internet to send MDM figures as user has option to send the figure through SMS from the app. This simplifies the job of MDM in-charge, who even does not have to remember the SMS formats. The higher authorities at Block, District and State level have a very simple and effective mechanism in shape of this app on their mobile devices for effective and efficient monitoring of daily as well as monthly data transmission by all the MDM in-charge falling under their jurisdiction. The monitoring authorities can send SMS alerts to all defaulters using single button available in the app.
This is a Single Android Mobile App for all States/UTs, is multi-lingual and it works offline too. Presently, 7 States/UTs of Himachal Pradesh, Rajasthan, Haryana, Uttrakhand, Mizoram, Chandigarh, Daman & Diu are using it and Madhya Pradesh, Meghalaya, Kerala, Dadar and Nagar, Haveli are on board the software. The MDM ARMS software is available at  http://mdmhp.nic.in
The Mid Day Meal mobile app supplements the MIS software MDM Automated Reporting and Management System-MDM ARMS, which has also been developed by the NIC Himachal Pradesh as a product and can be used by any State Government desirous of using the SMS mode as the primary mode of data collection for mid day meals served to the students in the schools.
The software solution and the mobile app has been developed by the NIC Himachal Pradesh, which is also one of the four Competency Centres of NIC for the Mobile Application Development in the country.