Haryana:Message from State Election Commissioner Haryana for NIC Haryana
Rahul Jain, Haryana
rahul[dot]jain[at]nic[dot]in
|
Jun 16, 2016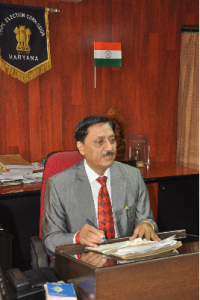 E-Dashboard  a web based online application developed and implemented by National Informatics Centre (NIC), Haryana for the conduct of elections for the Panchayati Raj Institutions (PRI) as well in Urban Local Bodies (ULB) -2016 recently held in the state of Haryana is a landmark innovation.
The said Dashboard dispense with all conventional monitoring and communication system as used earlier in electoral process system and introduced an automated real time monitoring system which further enhanced lot of transparency in the whole election process. With the inclusion of such ICT enabled technology more efficiency and transparency could be possible. I am hopeful that such e-dashboard shall be a generic application for all other such applications that always have critical and fixed time lines may be a contender for other such applications developed across the country.
I convey my appreciation for the innovative work done and dedication of the team of National Informatics Centre (NIC), Haryana headed by Sh Ghan Shyam Bansal, DDG & SIO (Haryana) for their untiring support and active contribution for extending total solution in conduct of elections.  
Rajeev Sharma, IAS (Retd.)
State Election Commissioner,
 Haryana