Department of Justice
Lokesh Joshi,
lokesh[at]nic[dot]in
|
May 11, 2016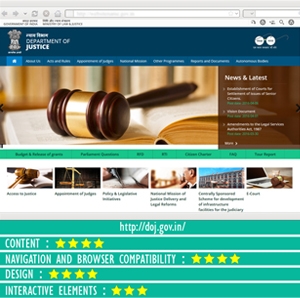 Department of Justice is a part of Ministry of Law & Justice and is one of the oldest Departments of Govt. of India. The functions of the Department of Justice include the appointment, resignation and removal of the Chief Justice of India, Judges of the Supreme Court of India, Chief Justices and Judges of the High Courts and their service matters. The Department implements important schemes for Infrastructure Development of Subordinate Judiciary, Legal Aid to Poor and Access to Justice.
The Homepage makes a balanced use of colour. Prominent Slider banners have been provided on the homepage for dissemination of important information about the department as well as various national initiatives. Content on the homepage, is well organised with information pertaining to important activities of the department , related organizations, press releases, tenders displayed prominently. Site is easily navigable and the global navigation bar provides quick and easy access to different sections of the website. Latest updates and news showcased prominently on the homepage reinforce that the content is updated regularly on the website. Link to a photo gallery section showcasing important activities of the ministry is present on the homepage.