Department of Animal Husbandry Dairying and Fisheries
Lokesh Joshi,
lokesh[at]nic[dot]in
|
May 11, 2016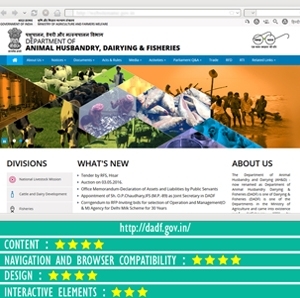 Department of Animal Husbandry Dairying & Fisheries (DADF) is one of the Departments in the Ministry of Agriculture. The Department is responsible for matters relating to livestock production, preservation, and protection from disease and improvement of stocks and dairy development, and also for matters relating to the Delhi Milk Scheme and the National Dairy Development Board. It also looks after all matters pertaining to fishing and fisheries, inland and marine.
The thoughtfully designed homepage of website of Department of Animal Husbandry Dairying & Fisheries has a clean and clutter free interface that prominently showcases the different divisions of the department and their activities. It also has a large repository of documents like reports, guidelines, handbooks, policy documents etc that are accessible through the global navigation bar present in the header region. The global navigation also provides easy and quick access to the various section of the website. The website also provides up to date information on significant topics catering to the requirements of diverse users and this is also reflected in the
"what's new" section presented on the homepage.