Odisha Forest Development Corporation implemented NIC eTendering for the sale of Kendu-leaf
A. K. Hota, Odisha
ak[dot]hota[at]nic[dot]in
|
Jan 17, 2014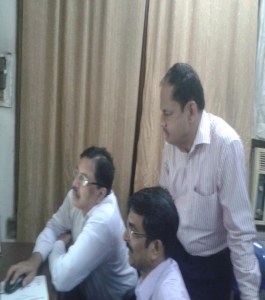 Shri S.K.Sinha, IFS, Managing Director, OFDC  from the Corporate Office of OFDC  published the pilot tenders of selling Kendu Leaf for 18 KL-divisions with 950 lots using  e-Procurement portal of NIC, Odisha (http://tendersorissa.gov.in) on 7th January 2014.   Shri Ajit Bharthuar, IFS & Director (Commercial) actively participated along with his team in the programme. The NIC team comprising Shri T.P. Ray, TD and Shri S.P. Dash, PSA and the SPC team headed by Shri Trinath Behera, Manager(E-Proc) were also present to provide last minute technical support for smooth launching of the project.
Odisha Forest Development Corporation Limited (OFDC) is a public sector unit of Govt. of Odisha. Among the major activities of the organisation, one of the most important work is the trade of "processed" and "phal" Kendu leaves. Realising the constraints of maintaining transparency and integrity, the organisation, with due consent of Govt. of Odisha, decided to go for e-Tendering. With a series of discussions, OFDC, Finally,  decided to go for implementation of NIC's e-Procurement portal to Sale Kendu leaves in 19 of its KL Division.
With the formal request from OFDC, Shri S.K. Panda, DDG & SIO,NIC assigned the responsibility to the team headed by Shri A K. Hota, Sr.TD & Scientist-F. Shri S.P. Dash, Scientist-D & nodal officer to OFDC has been assigned  to coordinate the implementation of e-Tendering with the help of e-Procurement Team of NIC, Odisha & State Procurement Cell(SPC), Govt. of Odisha. For selling of Kendu leaf, Shri T.P. Ray, TD and Shri N.R. Biswal, PSA took due support from e-Procurement Team, NIC, Chennai headed Shri K.S. Raghavan, Sr TD and tested the portal for Open for  H1 bidding.
The team headed by Director Commercial finalised the BOQs, NIT & DTCN with the help of State Procurement Cell & NIC team. Taking the leading roll, Shri M.R. Mishra, Manager(KL), with the help of Shri A.K. Panda, CS & Nodal Officer, Shri M. R. Kar, Manager(Gen), Shri K. C. Hansda, GM, Bhubaneswar Zone, Shri S. C. Dhal, Head Asst., Shri R. Sahu, U.D.Asst., Shri D. Mahanta, Sr.Typist,  and Shri S.K.  Mohanty, LD Asst. made this launching programme a grand success.
Speaking on the occasion, Managing Director express in his great satisfaction on the efforts & cooperation of  the NIC teams of Odisha &  Chennai & State Procurement Cell, Govt. of Odisha.