2. Ayush, Karnataka
Lokesh Joshi,
lokesh[at]nic[dot]in
|
Oct 15, 2013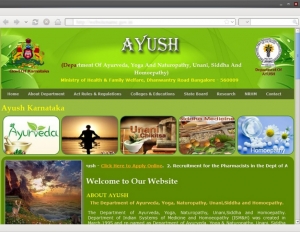 Department of Indian Systems of Medicine and Homoeopathy (ISM&H) was created in March, 1995 and re-named as Department of Ayurveda, Yoga & Naturopathy, Unani, Siddha and Homoeopathy (AYUSH) in November, 2003. It aims to provide healthcare, research and education in the fields of Yoga & Naturopathy, Ayurveda, Unani, Homoeopathy and Siddha systems. The AYUSH systems are traditional yet time-tested methods evolved to undertake disorders arising from modern day lifestyle regimes, which are posing as a major health threat.
The diligently designed website of the department is also a rich repository of latest information. The aesthetically planned website deploys green as the background colour to symbolize nature and natural therapies. The header region provides information related to the objectives and mission & organizational structure of AYUSH Karnataka, lists of doctors, hospitals and dispensaries, acts and regulations, courses offered under AYUSH and list of institutions offering these courses, besides information related to NRHM. Information affiliated with various alternate medicine systems such as Ayurveda, Yoga, Unani Chikitsa, Siddha and Homeopathy is featured just below the header region. The left side menu of the homepage contains information related to various schemes, Drug Licensing Authority, News, Publications, State Campaigns, links to related websites, FAQ's and Photo Gallery.
The website offers easy and quick navigation between pages and is quite compatible with all major web browsers.