Bureau of Immigration portal is launched (http://boi.gov.in)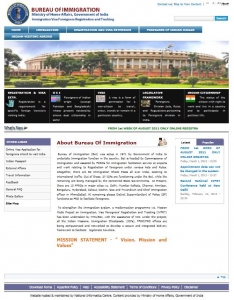 A web portal for the Bureau of Immigration (BoI) under Ministry of Home Affairs (MHA), Govt. of India (GoI) was launched on 10th April 2013 by Shri P. K. Bhardwaj, Joint Director (Immigration) in the presence of Shri V. Vumlunmang, Joint Secretary (Foreigners), MHA, GoI, Dr. R. K. Mishra, Technical Director, NIC, officials from MHA, NIC and other dignitaries. The salient features of the web portal were explained by Ms. M P Suganthi, Technical Director, NIC and Ms. Neeta Chauhan, Scientist-D, NIC. The web portal is a unified site for the complete information of Mission Mode Project (MMP) on the Immigration, Visa, Foreigners' Registration and Tracking (IVFRT) which is designed and developed by the IVFRT team under the overall guidance Dr. B. N. Shetty, DDG NIC. The web portal is hosted and maintained by National Informatics Centre (NIC).
On the top of the home page exhaustive information on various services pertaining to Registration and Visa Extension, Overseas Citizenship of India (OCI), Visa, Legislative Framework, Indian Citizenship are elucidated. On the left, various links like Online Visa Application for foreigners who intend to visit India, Indian Passport, External Affairs, Travel Information, Feedback, General FAQ, Photo Gallery, Site Map are available to facilitate the complete eServices to the viewers. Besides all these, downloadable forms like Visa Form, Visa related Service Forms, PIO Card Form are also available. On the right of the home page news items on the latest developments are also facilitated for viewing. The efforts of NIC team in developing the web portal in the given time frame was highly acclaimed by all.
Submitted By:
N.K Prasad, Delhi
|
nk [dot] prasad [at] nic [dot] in
Search Online News