Project GePNIC Adoption by Eastern Coal Fields Limited
A. K. Hota, Odisha
ak[dot]hota[at]nic[dot]in
|
Feb 28, 2013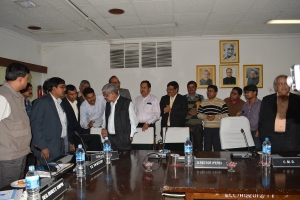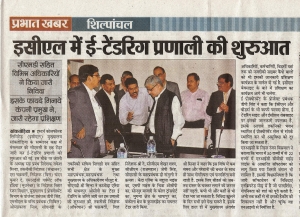 Eastern Coalfields Limited is the oldest subsidiary of Coal India Limited situated in West Bengal and parts of Jharkhand. ECL in its Credit has some deepest mines of World with superior grade of coal having high heat content suitable for Steel making.
 It was during mid of 2011, ECL inspired by successful implementation of e-Procurement at it's Sister Organization MCL under Coal India Limited, expressed their interest to adopt GePNIC to bring transparency in it's tendering process.
 Upon close interaction with ECL Management and after subsequent Presentation made to it's Board in early 2012 by NIC, Odisha team headed by Shri A.K.Hota, Sr Technical Director and Nihar Ranjan Biswal, PSA, The project was duly approved by ECL for GePNIC implementation.
 With submission of detailed project proposal meticulously drawing the implementation plan ECL's module of Technical Evaluation and Discount Bid system was tested and the first sensitization workshop for ECL officials and bidders were conducted at ECL headquarters in mid 2012 at its Sanctoria HQ office, Asansol, West Bengal with immense interest from the stake holders. The workshop was conducted by NIC headed by Shri  Shri M.Manivannan, STD, NIC Chennai along with Shri Tapan Prakash Ray, Technical director and the team.
 The Legal requirements, Notifications and other procedural formalities were accomplished by ECL and the pilot tenders were made ready. With  publication of six services tenders worth 138.5 crores on 5th February 2013 at  http://ecltenders.gov.in,  ECL became the second Coal India subsidiary  to adopt GePNIC. Each of the six  pilot tenders were published by the Chairman-cum-Managing Director , ECL Shri Rakesh Sinha, Director (Technical) Opn & P&P Shri Subrata Chakrabarty,  Shri C.K.Dey, Director (Finance), Shri S. Saran, CGM, Shri J.P.Singh , CGM and Shri Debal Gangopadhyay, GM CMC in the conference hall of ECL at Sanctoria.
 The inaugural ceremony was attended by all Chief General Managers, all General Managers and other senior officers of ECL. Shri O.P.Mishra, Sr Manager, MCL provided all requisite support for launching of pilot tenders by ECL while sharing his experience and highlighting the tangible achievements and non tangible benefits occurred to MCL and it's stake holders after adopting GePNIC.
 Excellent  technical support was extended by NIC Chennai team headed by Shri K.S Raghavan and Mr. Sivaram Selvan with desired modification of the Software and Hosting of the application at Delhi Data Centre with requisite Server Management and installation etc.
 Under the guidance of Shri S.K Panda, DDG, NIC, Odisha team provided the Digital Signature related support to ECL officials from it's RA office apart from Domain Registration, SSL server certification, Process Study arrangements and enhancements, New modules and methods and value addition to GePNIC, apart from successful implementation strategy planning and roll out action plans.
 SIO, Odisha expressed his solidarity to the team while extending his gratitude to DG, NIC whose guidance in 2009 for integration of Auto Technical Evaluation module for GePNIC through MCL proved to be a major success while recalling the process re-engineering thus carried out with the help of the Domain expert team at Bhubaneswar, Odisha.
 The Chairman-cum-Managing Director of ECL Shri Rakesh Sinha expressed his happiness that the process of rolling out of eProcurement has begun and congratulated the entire NIC team.,  MCL team and eProcurement cell headed by  Shri Debendra Prasad Singh, Project Manager and team of  ECL with youngsters like Mr. KCS Naidu Boni  and Mr. Amit Kumar who coordinated the launching programme of pilot tenders.
 The unique methodology that is being followed by MCL and ECL during tendering process has not only brought down the Trust Deficit which was a major bottleneck in the process but simultaneously has increased the confidence level of all Stake Holders while brining transparency in the entire Organizations systems. Both the Organizations have done away with taking voluminous documents from the bidder and the tender evaluation has been objectized thus eliminating the bottlenecks associated with subjective evaluation during tendering process.
 It is worthwhile to mention that the DUO success at MCL and ECL has inspired CIL (Coal India Limited) a MAHARATNA company which is the largest producer of Coal in World having employee strength of nearly Four Lakhs has proposed to implement GePNIC in all its subsidiary companies throughout the Country.
 The incessant persuasions of some key officials of MCL and ECL along with the extensive real time support by NIC, Odisha and NIC Chennai team has been instrumental to bring a change in the system which is tangible.