e-World 2011 Award to Jharsuguda District, Odisha for Electronic Delivery of Services Initiative in Police Sector
A. K. Hota, Odisha
ak[dot]hota[at]nic[dot]in
|
Sep 26, 2011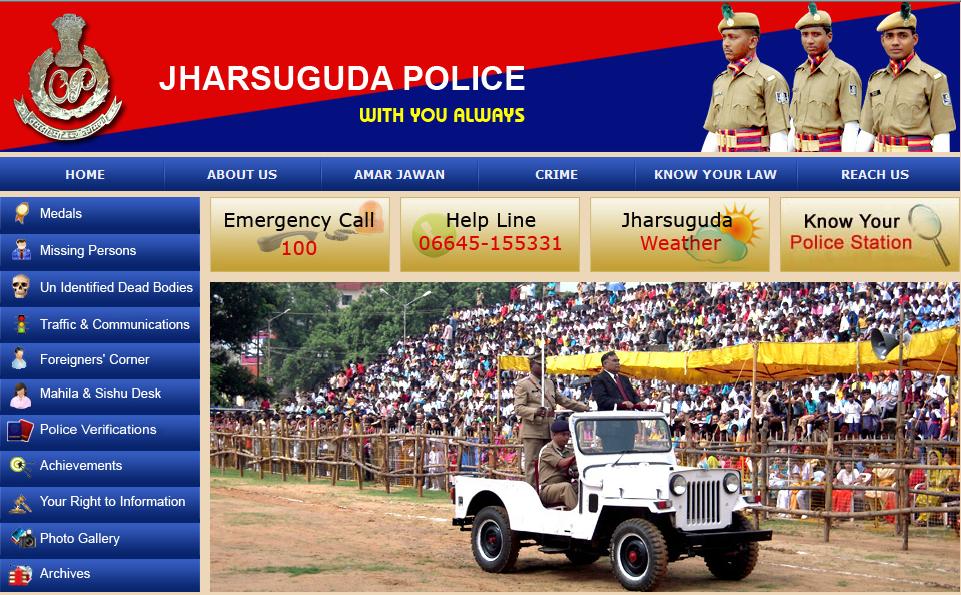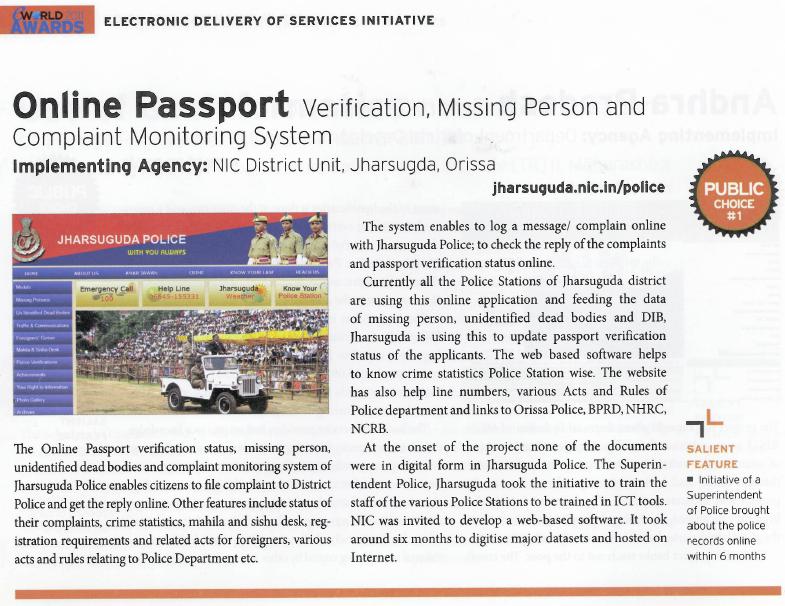 The online passport verification status, missing person & unidentified dead bodies information system, Complaint monitoring system etc. of Jharsuguda police, Orissa, enables transparency and delivery of e-Services including e-Information to the citizen. Other deliverables include Crime statistics, Mahila and Sishu desk, registration requirements and related acts for foreigners, various acts, rules relating to Police Department etc. Currently all Police stations of Jharsuguda district are using this online application.
 
The effort put in by NIC Dist Unit Jharsuguda, Odisha under guidance of the Superintendent of Police have been recognized with First Public Choice award at e-World 2011 forum.

Major e-Services include:
Police verification (Passport status)
Passport applications are received in the Regional Passport Office. After due scrutiny, they are sent it in the prescribed form to the Office of the Superintendent of Police, of Concerned District. The DIB section of the Superintendent of Police handles the passport applications and verifications. After processing the same, it sends it to the concerned P.S. having jurisdiction over the place where the concerned applicant is residing for necessary verification of the character and antecedents, for certifying the photograph of the applicant pasted in the original application as well as for verification of the permanent and present address of the applicant etc. After completing verification on the aforementioned counts and after being satisfied that the applicant has no past criminal record, police verification in the prescribed form is returned back to the Passport Office for necessary action.
 
Missing Persons Information System
The service provides facility to make details of Missing Persons available online. Missing person may be a person of any age who is missing
a) Under circumstances indicating that the disappearance was not voluntary
b) Under circumstances indicating that physical safety of the person may be in danger
c) After a catastrophe
d) Under proven physical and mental disability or is senile, thereby subjecting that person or others to personal and immediate danger
e) Declared un-emancipated as defined by the laws of the  state of residence and does not meet any of the entry criteria set forth in 1-4 above
 
Unidentified Dead Bodies
This webbased service, which provides list of currently unidentified bodies found, would greatly expand the reach in finding relatives or friends of these unidentified persons. The pictures are not suitable for viewing by the Children as the photographs display mutilated bodies which common persons may find offensive in nature. Images may include retouched facial photographs, photographs of tattoos and/or personal effects found with the remains. These images may aid in the identification of an unidentified person. Images of clay reconstructions, computer enhancements / reconstructions and composite sketches may be presented. These fabricated images may not always resemble the individual as they actually appeared during life and are prone to error. Such images are created to generate leads in the investigation and to enhance the possibility of successfully identifying any of these individuals.
Shri Akshya Mishra
DIO, Jharsuguda, Odisha