Workshop of Trainers on Online Scholarship Management System OSMS for Merit cum Means based Scholarship at Bhubaneswar, Orissa
A. K. Hota, Odisha
ak[dot]hota[at]nic[dot]in
|
Jun 23, 2011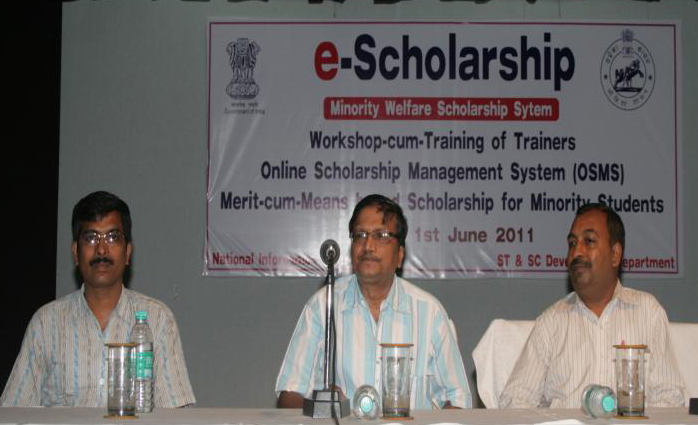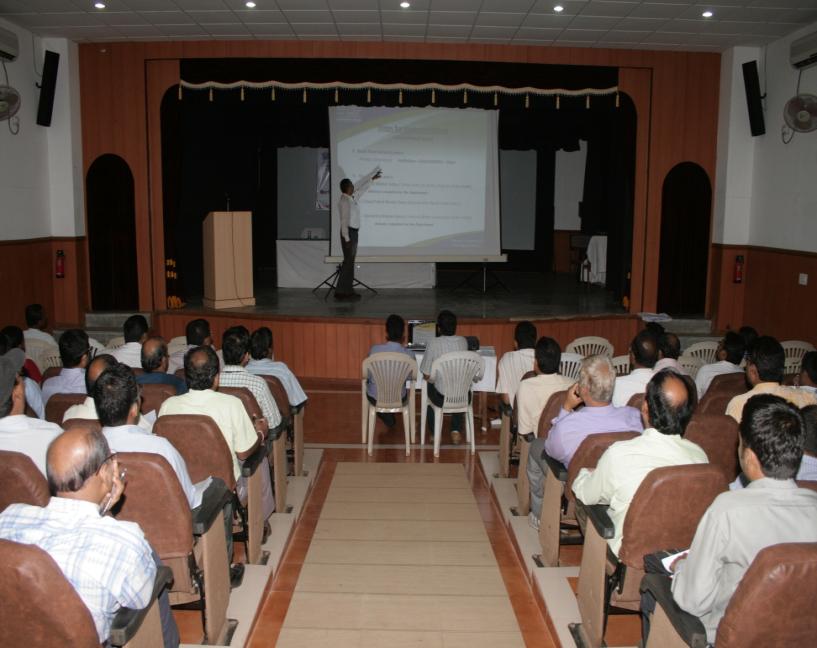 The Merit-cum-Means based Scholarship for Minority Students is a special type of scholarship offering financial support to the economically weaker (annual income of families limited to 2.5 lakhs) students from the Minority Communities (Muslims, Christians, Buddhists, Sikhs and Parsis).
This Scholarship is meant for the students to pursue Professional and Technical courses covering 121 technical courses which have been identified by Ministry of Minority Affairs (MOMA) Government of India (GOI). NIC has developed a Web Based application named Online Scholarship Management System (OSMS) to operationalise across the country. The ST, SC, Minority & Backward Welfare Department, Government of Orissa in association with NIC, Orissa State Centre has taken the responsibility to implement this e-Scholarship module across the State of Orissa.
As the part of planning for implementation of the scheme a Workshop-cum-Training of Trainers on OSMS, was organised on 1st June 2011 at the Conference Hall of ST & SC RTI Campus, CRP Square, Bhubaneswar, Orissa. The workshop was attended by Participants from 145 premier Institutions of Khordha District, DWO of Khordha District, Officers from Minority Welfare Department and Officers of NIC.
In his welcome address, Shri B.K. Nayak, IAS , Joint Secretary-cum-Director, Minority & Backward Class Welfare, explained the existing manual system and pointed out the bottlenecks in achieving the target. He also discussed the roles of various stakeholders such as Students, Institutions, DWOs in District HQs & Director in State HQ. Initially Department would register the 304 institutions (presently available) who would get notification about their UserID & Password through the SMS alerts / e-Mail Services. Using the credential provided, the Institution will submit the details about the Head of the Institution, Address of communication, Courses offered, fees structure & Bank Details through the online system.
Shri D. K. Mandhata, PSA, NIC, presented the work flow in OSMS and described the functioning of each the stakeholders at different level of work flow. Associating in the presentation, Shri S. P. Dash, SSA, NIC, narrated the benefits of the Online System Vs. the manual system and described the interdependencies in functioning of the stakeholders. The Deptt assured that institutions are going to receive their UserID & Password through SMS/e-Mail notification at the earliest.
Towards this, the participants were requested to submit the details of the courses offered & the course fees as soon as they receive their credentials. As per the schedule, Questions & Answers session was held in which Shri Mandhata & Shri Dash clarified the doubts of the participants. The participants appreciated the efforts being made by NIC which will make the whole process easier to manage and monitor.
Concluding the Workshop, Shri Nayak, IAS appreciated the active participations from 145 premier Institutes of Khurdha District that made the workshop a grand success. He expressed his thanks to Shri S K Panda, SIO & Shri A. K. Hota, TD-cum-Group Head for their wholehearted support in this humble beginning.