Observation of Hindi Week 2017, Odisha- A Report
A. K. Hota, Odisha
ak[dot]hota[at]nic[dot]in
|
Oct 30, 2017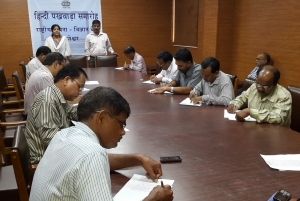 As part of 'Hindi Day' observation, NIC Odisha celebrated Hindi Pakhwara (Fortnight) with effect from 14th September.  
In order to promote Hindi among the officials, Hindi competitions namely Hindi writing, Sulekh, poem recitation and debate competitions were organized. Hindi writing competition was especially for officers of district unit and Sulekh competition was for administrative officials, in which they participated actively.
Prize distribution ceremony of the Hindi Pakhwara was held on October 20th under the chairmanship of Sri P. K. Pramanik, DDG & SIO, NIC Odisha.
Speaking on the occasion, Sri S. A. Khan, STD & Nodal officer of official language implementation Committee (OLIC), stressed on the use of Hindi in official correspondence in accordance with the policy issued by the Government of India.  He also highlighted the importance of the official language and appealed to all the employees to work in Hindi and contribute in better spread of the official language across the country.
Shri Pramanik, DDG & SIO, applauded all the participants for their excellent performance and also commended the organizing staff in making the Hindi Pakhwara successful.  
Participants also shared shayari, hindi songs and inspiring hindi quotes to make the programme interesting.
Member Secretary of OLIC committee Ms. Alka Pradhan expressed hearty gratitude to all officials for joining the Hindi fortnight celebration and making the programme a success.